Welcome to our guide on how to effortlessly create a captivating Direct Booking Website using our exquisite Premium Templates. In just 5 minutes, you can have a stunning website without the need for any coding skills.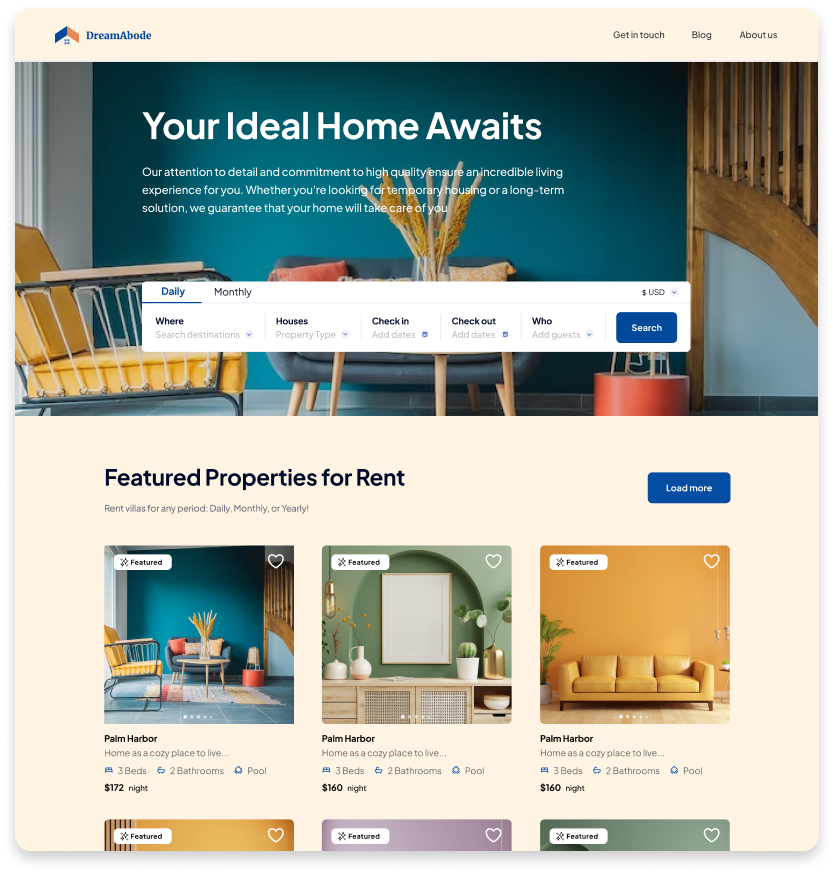 Getting Started: How to Create Your Website

Navigate to the

Websites

section (Please note that website creation is only available on the desktop version).

Click on the

Create Website

button.

Select the listings you wish to display on your Website.

Unlock Premium Features by clicking on

Premium Templates

and adding your payment details.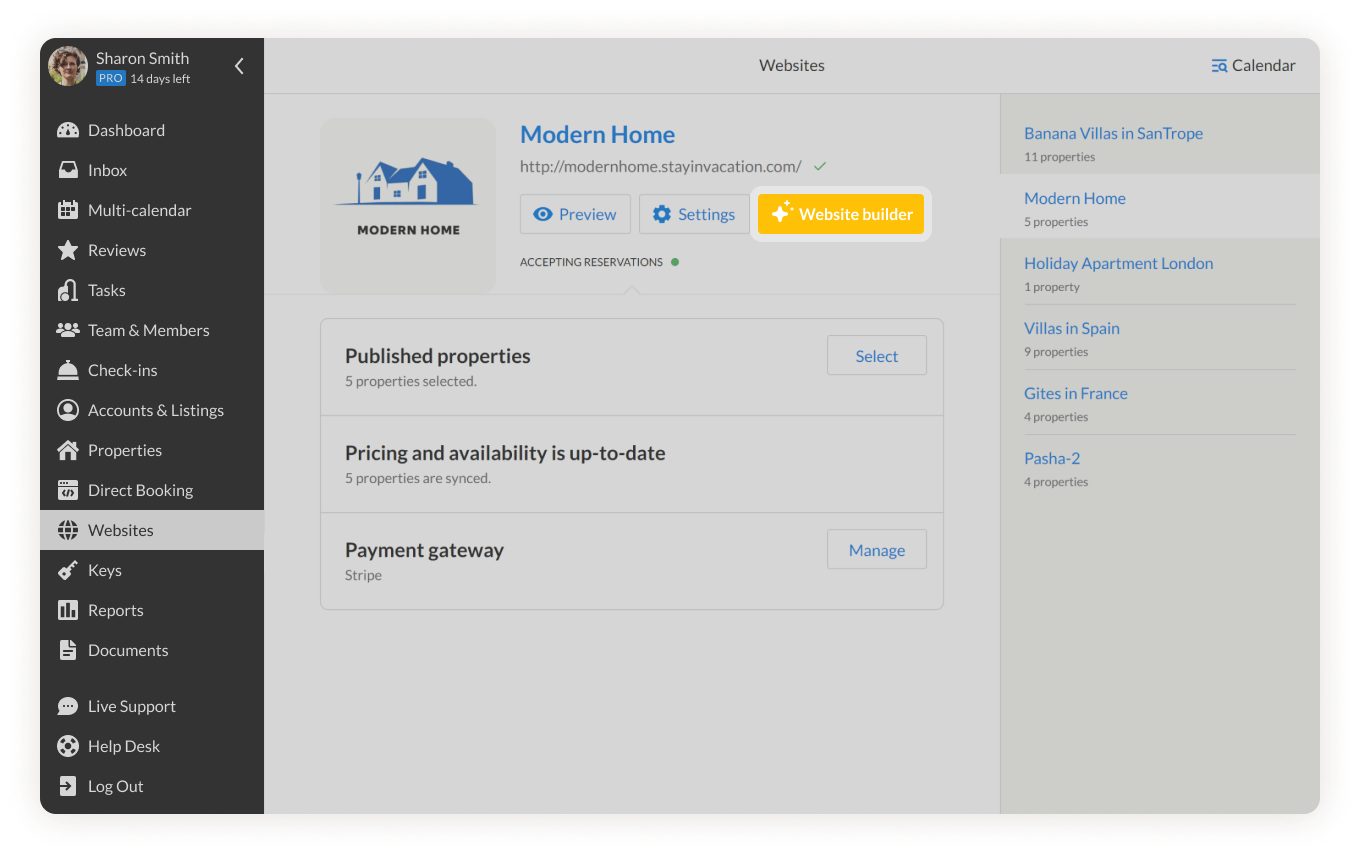 Now, let's add content to your website and customize its appearance.
Designing Your Website Layout


Once you've upgraded your account, you'll find the basic Main Page layout already created by default.
To manage and edit the content on your page, click Edit Page Layout.
Customizing the Header:
Upload your

Company's Logo

in JPEG, PNG, or GIF format. Your logo will be elegantly displayed in the Header and Footer sections.

Create up to

six Tabs

for your main menu. You can easily rename them and include links to URLs like blog posts or landing pages for your visitors to explore. Tabs can also be hidden if desired.

Showcase your contact information in the Header and Footer by adding a contact number.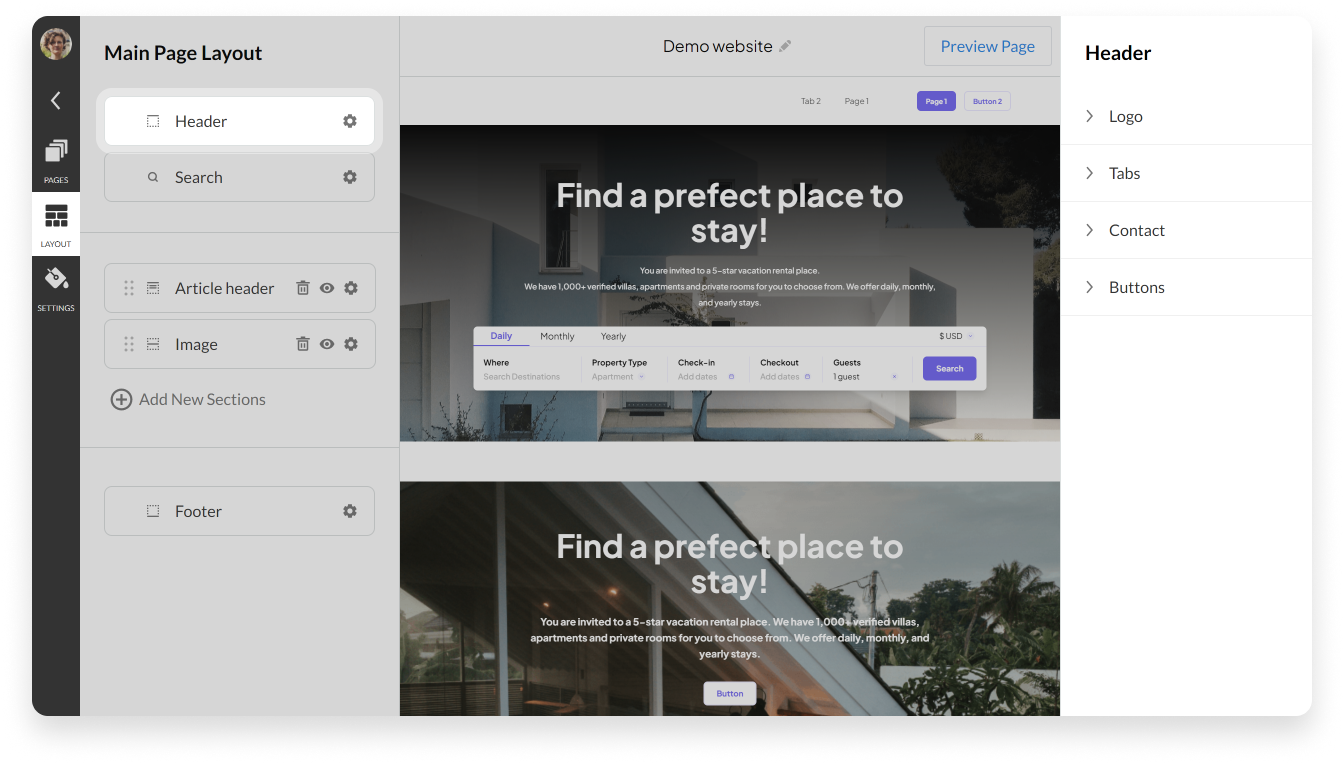 Search Section:
Choose between Centered and Left alignment for the

Preferred Layout

.

Add a compelling Title and Description in the

Content Section

.

Enable Daily, Monthly, and Yearly modes for your rentals. If you offer short-term rentals only, you can disable Monthly and Yearly modes, designed for mid- and long-term rentals.

Allow guests to search based on specific

Property Types

and

Locations

(Property Type can be set in the

Direct Booking Listing Editor

)

Upload a captivating Background Image for the Search Section in JPEG, PNG, or GIF formats.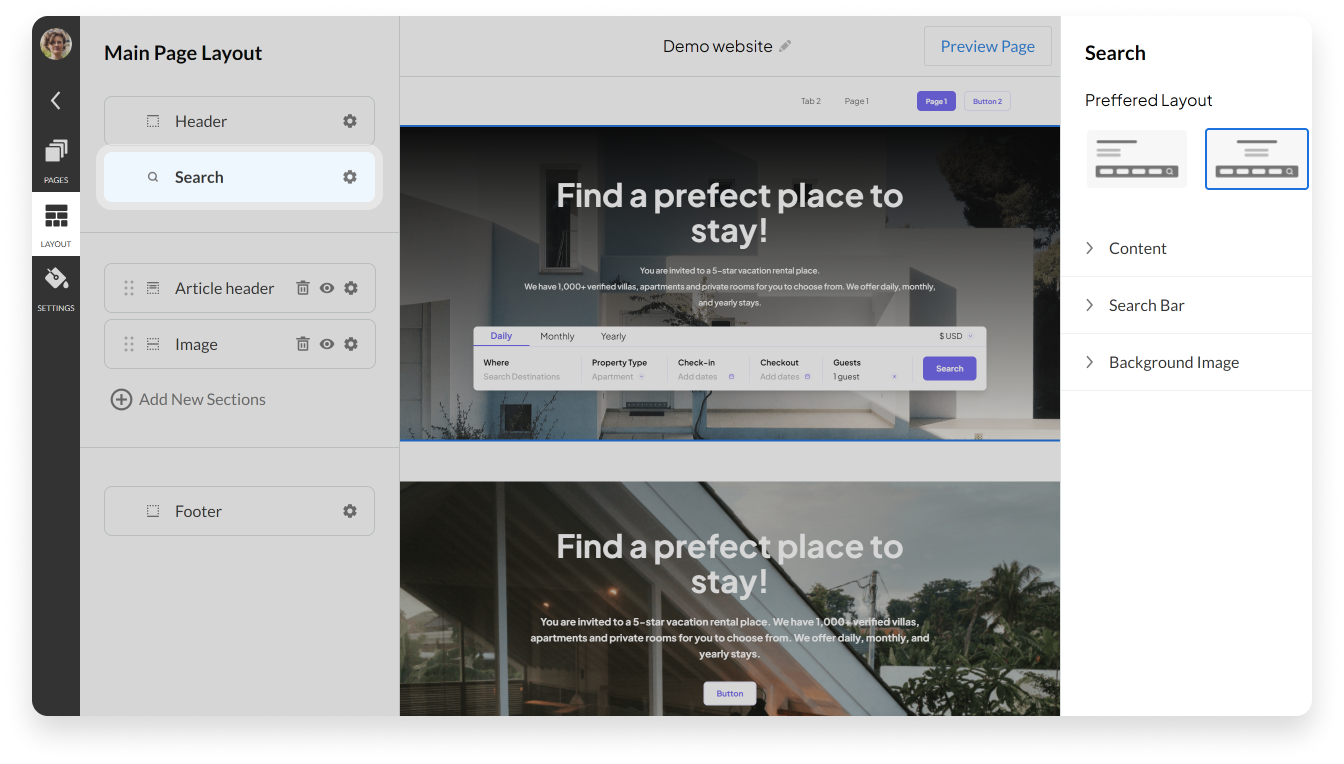 Footer Section:
Feature up to four tabs leading to external websites or other pages on your iGMS Website.

Provide essential information about your company in the

Content section

.

Customize two buttons leading to external websites or other pages on your iGMS Website.

Add links to your social media pages, such as Facebook, Tiktok, Instagram, and Twitter.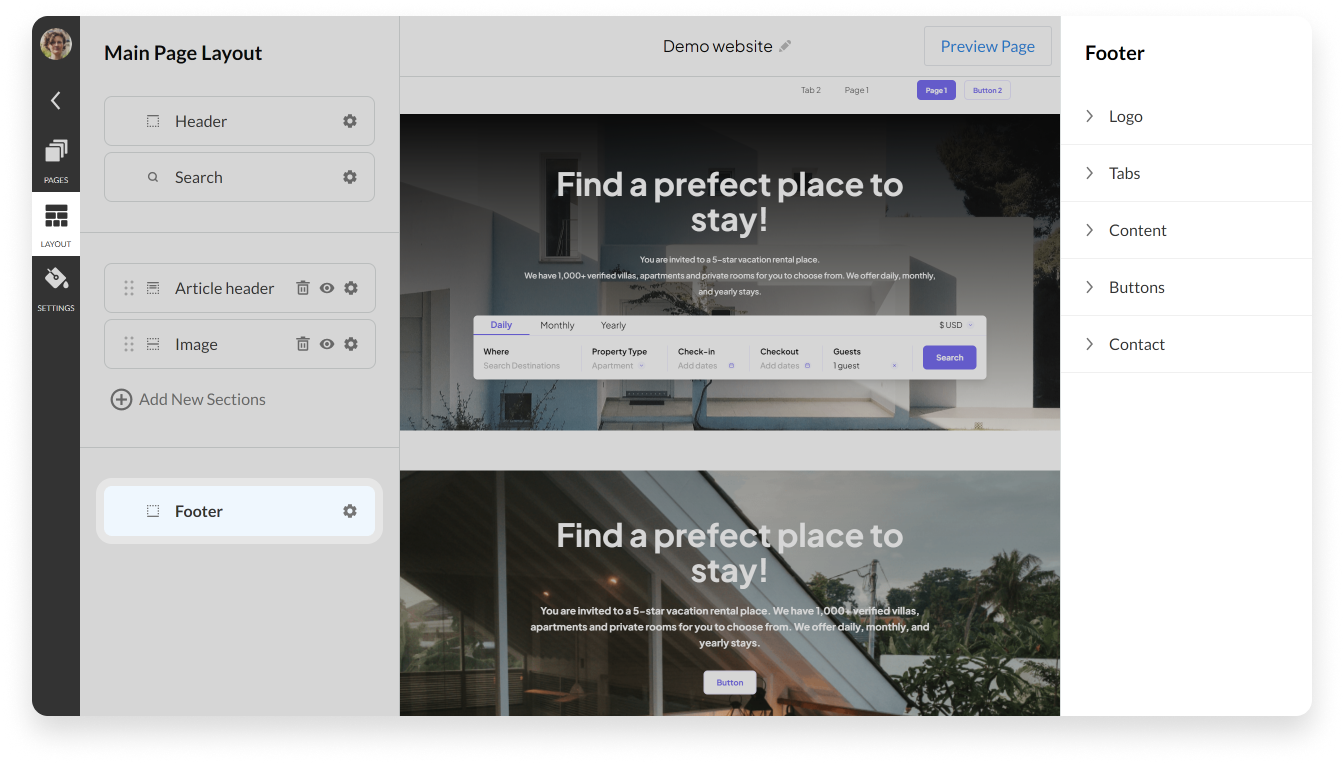 In addition to the existing layout options, you have the flexibility to add a New Section to your page, allowing you to tailor your website to perfection. Here are the various options available:
Image

: A captivating image that speaks volumes and captures the essence of your rentals.

Article Header

: Grab your visitors' attention with an attractive and informative header.

Text/Article

: Share compelling stories, detailed descriptions, or important information about your rentals.

Banner

: Make a bold statement with a striking banner that promotes your key offerings.

Banner with Elements

: Display the main advantages of your rentals with visually appealing elements.

Categories/Featured: Showcase your listings under specific categories or highlight featured properties. You can select the properties that you would like to be shown in the Featured Section in the Website → Settings.



Let's explore the Banner with Elements option and see how it can elevate your website.
With this section, you can present the unique selling points of your rentals in a visually captivating manner. Follow these easy steps to create an impactful Banner with Elements:
Choose between two layouts

: Opt for a

Banner with

or

without an Illustration

, depending on your preference and style.

Add up to 4 elements to the page

, and for each element, provide an individual Title and Description. These elements will be the key highlights of your rentals, capturing the attention of your potential guests.

Customize the Button

to lead your visitors to an external website or another page on your iGMS Website. This can be a great opportunity to prompt them to take action, such as making a reservation.

Personalize the Background by selecting a Custom Color or keeping the default one. This allows you to align the section with your brand's aesthetics.



In addition to our easy-to-use layout customization options, there's a Settings Tab with a range of features to further personalize your website to match your brand's identity.
Choose Your Theme:

Select between two beautiful themes – a sleek and sophisticated dark theme or a fresh and airy light theme. Pick the one that best compliments your brand's personality and creates the perfect atmosphere for your visitors.

Branding Master Color: Set your branding master color, and watch as the button, font, and icon colors seamlessly adjust themselves to harmonize with your chosen color palette. This ensures a cohesive and professional look across your entire website.



How to manage the Website Settings?
Your website is almost ready to go live! Just two simple steps left:
Fill in details about your listings (such as description, fees, pricing, availability, payments settings) in the

Direct Booking Listing Editor

, and

Set up a Domain name and manage your Google Analytics in the

Website Settings

.
If you have any questions about the Website, please contact our Customer Experience team via Live Chat or by email at support@igms.com.