A channel manager is an essential tool for vacation rental property managers. With this feature, you have much better control over properties listed on multiple vacation rental websites since you can easily manage them from one spot.
Why Do I Need the Channel Manager Feature?
The Channel Manager is a special feature that merges your listings from different booking platforms and helps you run them as one property. All the reservations data will be displayed in a Multi-calendar.

Similarly, a Channel Manager can be used for managing several listings from the same channel. For example, if you have listed one property on multiple Airbnb accounts, you can then unite all of them under one property.
Note: Properties that have been connected together from both channels have an Airbnb and a HomeAway icon next to the title in the Multi-calendar.
Why Should I Use a Channel Manager?
Synced data.

A

Channel Manager

unites reservations from multiple vacation rental channels under one property. You can control the availability of your property for every channel connected. This also works for grouping several duplicate listings on one channel.

Dates Blocking.

You will see synced reservations between the channels via the

Multi-calendar

and

Reservation Calendar.

If one property from a group receives a reservation, the dates will immediately be blocked for the same property on the other channels. This is also true for manual reservations.  

Unified Inbox.

Send messages using templates and triggers for Airbnb, Vrbo and HomeAway guests. If hosts might want to create channel-specific templates, this can also be done in

the Template Editor.

Automatic Tasks.

Cleaning tasks will automatically be created by the iGMS system for a property without duplicates.

Pricing and Availability.

Set prices and a minimum stay for the whole property or for each channel individually in the Single Property Calendar.
How Can I Group Channels?
Step 1 – Choose the Property
Click on the Accounts & Listings section and find the property you want to group.
Then, click on the property you want to group to open the Property Editor.
Step 2 – Set Up the Channels
Take a look at the Channels in the right panel of the Property Editor. You will see that this property has at least one Channel – Airbnb, Vrbo or Booking.com. Click on the Edit button and then on Add Property or Group.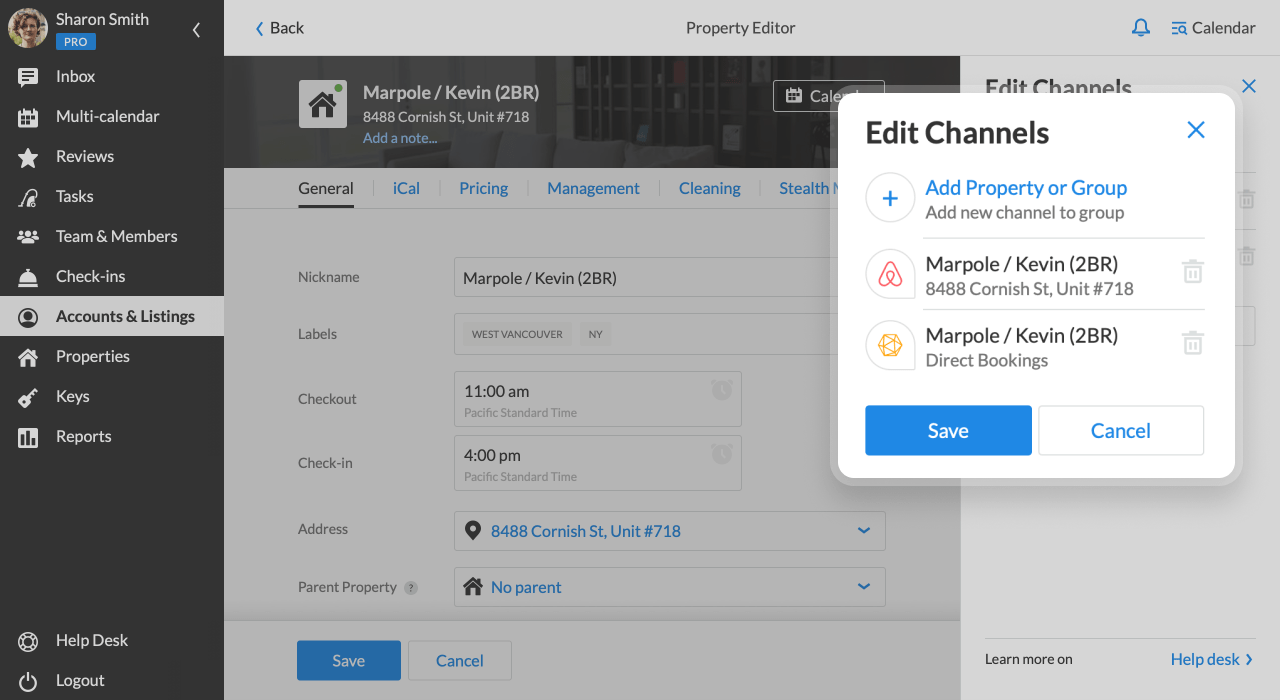 Choose the channels you want to group the initial one with or type the name to find it. Once you have clicked on a new channel to add to the group, it will appear in Channels. You can group several channels at once, as well as a group of channels.
Click Save once you have all the channels in a group together.
Now you can see that this property has two (or more) channels connected within iGMS.
Step 3 – See Groups in the Multi-calendar
If you have grouped two and more channels together, you will see this property on the Multi-calendar with a black house icon and reservations from all channels.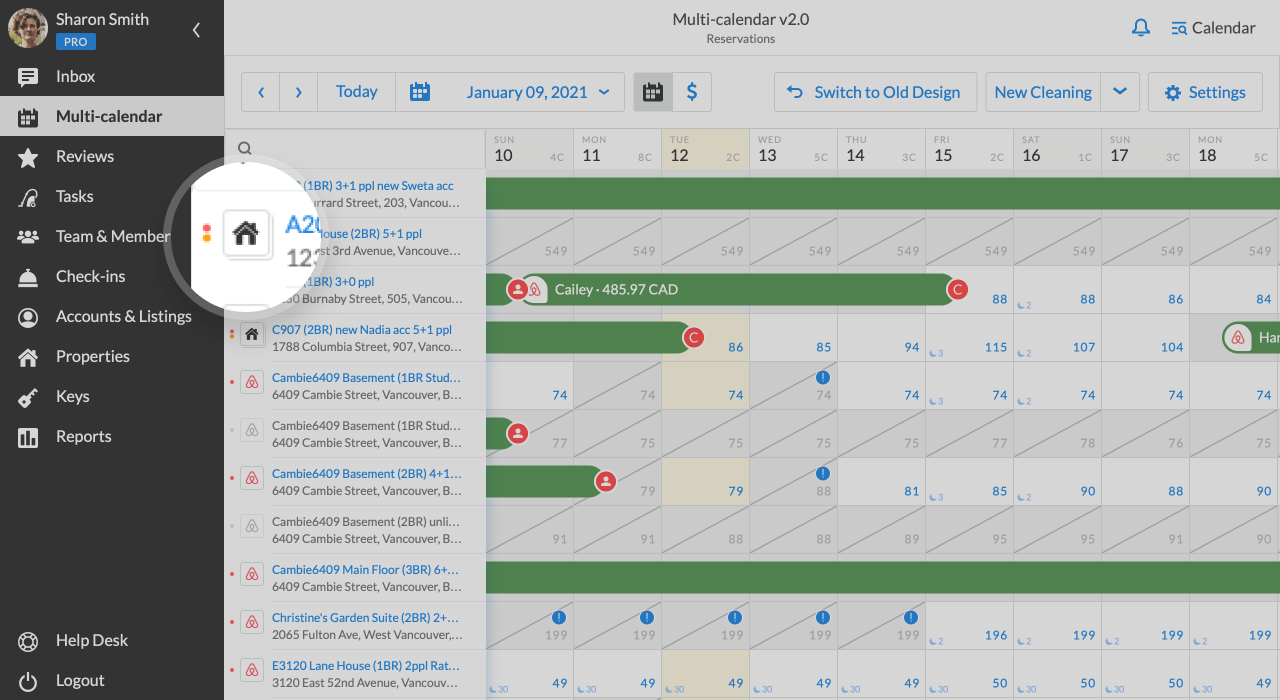 Important Note on the Group Name
Note that after merging channels in a group, properties will be listed in alphabetical order on the Multi-calendar. If your listings have different names on the booking platforms, the system will display the name of the first listing in the group.
For example, you can have:
Cozy Tropical BnB with a view

on Airbnb

Tropical BnB not far from the market

on Vrbo
If you group the listings together, only one of them will be the group name on the Multi-calendar.
To prevent this issue, we recommend using the same name for the property on all platforms. Then, when you merge channels together, the whole group will have the same name. 
If you accidentally merged the properties that have different names, you can separate them, rename them, and merge them back to have the correct name on the Multi-calendar.
Can I Group Other Listings, e.g. TripAdvisor?
At the moment you can only group channels connected to the platform directly – Airbnb, Vrbo  (including regional platforms), and Booking.com. Third-party platforms, e.g. TripAdvisor, can be integrated via iCal only. 
Should I Remove iCals From Airbnb, Booking.com and Vrbo When Grouping Channels?
Yes. Our internal dates-blocking system works faster than iCal technology. If you keep both the Channel Manager and iCals enabled for Vrbo listings, you might find unwanted double-blockings on your calendars coming from iCals since they don't react as fast on changes.
Important: If you have iCals from TripAdvisor or any other third-party calendar connected to the property, it will sync data with all channels connected to the property.
For example, you connected Airbnb, Vrbo, and Booking.com channels under one property and you have an iCal from TripAdvisor synced with the Airbnb channel. Reservations from the TripAdvisor iCal will appear in the united property calendar and the reserved dates will be blocked for connected channels. 
Things to keep in mind:
When you enable the Channel Manager feature, the review process won't be affected. Review templates are channel-related only, meaning that Airbnb review templates will be sent to Airbnb guests only. Please note that reviews for Vrbo and HomeAway guests are not supported yet.

Reporting won't be influenced by the Channel Manager feature. You will see stats based on listings data.

Enabling the Channel Manager feature for several listings doesn't affect the access level of your team members.  
In case you have any questions about the Channel Manager settings, please contact the Customer Experience team via support@igms.com.