According to the Airbnb API partnership agreement, all listings managed by external platforms, such as iGMS, should be exclusively operated via this software. Depending on your hosting workflow, you have different sync options available for your listings. 
Note: Listing sync options only limit permissions for iGMS, it doesn't affect the frequency of synchronization between iGMS and Airbnb platforms.
Where can I check the current listing sync settings?
You can check the current sync setting in the Listing Editor.

Please, follow the instructions below:
Go to the

Accounts & Listings tab

.

Click on an Airbnb listing you want to check.

Click on the Airbnb channel in the Channels

.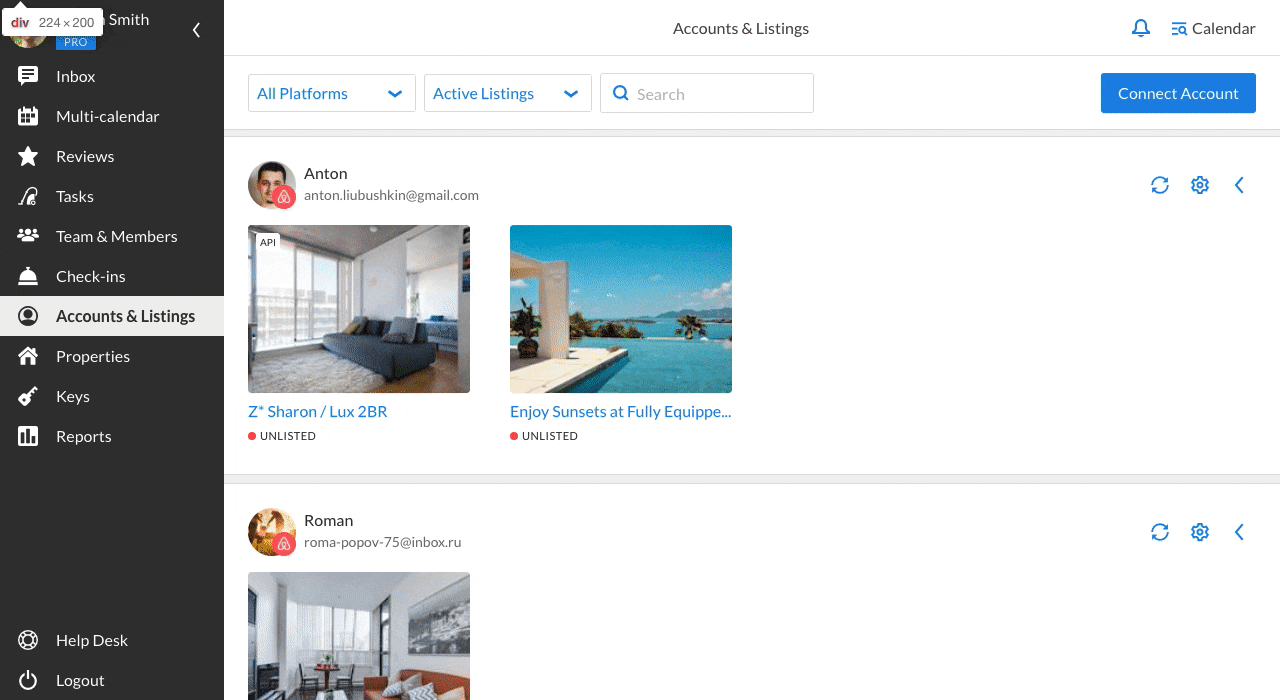 What are the sync type settings for Airbnb listings?
iGMS offers three types of synchronization settings with Airbnb listings:
Sync Pricing and Availability (set by default for newly connected listings).

Sync Everything.

Disconnected (not recommended).
Below we will look into the types of synchronization in more detail.
Sync Pricing and Availability (default)
The Sync pricing and availability setting authorizes iGMS with exclusive control over pricing and availability settings. You can change prices and availability on Multi-Calendar, but you are unable to make any adjustments on Airbnb directly. This type of sync also allows you to change your pricing policy, as well as set up management and cleaning fees on iGMS. All other settings and details can be managed on Airbnb. 
Within the Airbnb Listing Editor pricing tab you can adjust base and weekend prices, discounts and fees:
Base and Weekend Prices
You can control your prices and discounts for your listings:
Base Price

–

The default daily price for the listing.

Weekend Price

–

The default price for weekend nights.

Security Deposit

–

A security deposit held by Airbnb and refunded to the guest unless you make a claim within 48 hours after the guest has checked out.

Guests Included

–

Number of guests permitted without any additional fees.

Price Per Extra Person

–

A fee that will be applied for each additional guest, for each night of the reservation

.
Discounts
The Discount fields allow you to customize your offers depending on the length of stay:
Weekly discount

–

The discount to be applied if a reservation is between 7 and 28 nights.

Monthly discount

–

The discount to be applied if a reservation is longer than 28 nights.
Fees
The Fees sections allow you to set up the cost of the fee for certain functions:
Cleaning fee.

Resort fee.

Management fee.

Community fee.
Availability
From this section you can make adjustments to your availability:
Minimum and Maximum night stay.

Advanced Notices

–

The number of days before the present day that a guest can make a booking.

Preparation time

–

The number of days of preparation time required between reservations.

Days of the week

–

Allows you to edit check in, check out and minimum night stay for according to the day of the week.
Sync everything
By choosing Sync everything, iGMS takes exclusive control over all data associated with a listing.  Apart from Pricing and Availability, listing data also include General Information i.e. Title, Description, Photos, Pricing, Booking Settings, Availability and Registration.
General
In the General tab, you can change the Title of your listing. This Title will be reflected on Airbnb, together with address, photos and amenities.
Description
In the Description section you will be able to add the description for your property as well as the description for the space, guest access and interaction, neighborhood overview and getting around the area.
Booking Settings
The Booking Settings help you control options such as number of guests and house rules. Under this tab, you will be able to set up the following details:
Max number of guests.

Number of bedrooms and bathrooms.

Check in and checkout time.

House rules.

Requirements for instant booking.

Cancelation policy.

Greetings for your guests.
Registration
Last but not least is the Registration tab where you should add your local permit tax ID in compliance to Airbnb's rules and regulations.
Disconnected – not recommended
This sync setting cannot be changed for listings in Singapore.
When a listing is disconnected, it means that iGMS is unable to access any data and make sure that all operations are running as expected. We do not recommend having listings in the Disconnected sync type, unless it's necessary.
How to change the sync type for an Airbnb listing?
You can change the setting of your listing sync: 
Go to

Accounts & Listings

and click on the listing you want to edit sync for. 

Click on the listing in

Channels

of

the Property Editor.



Click on the

Listing sync settings

and open the drop-down menu.

Choose the setting you need and click

Update.

In case the update did not come through, follow the system instructions to confirm the update. Things to keep in mind:
Smart messaging is not affected by the sync setting.

Regular operations, such as alteration, cancellation, pre-approval, approval, etc. are available with no regard to the sync type.