Whether you are starting a new short-term rental business, or have been in the game for a long time, you know that your guest communication is essential to maintaining a higher occupancy rate and getting more positive reviews.
With iGMS you can automate your guest communication workflow, monitor your guest support team productivity, and increase your conversion rate. iGMS is the only PMS to date that has introduced this unique set of tools. Let's see how PROtrack – the Guest Communication Productivity Tracking feature – can help streamline the efficiency of your guest communication.
How can the Guest Communication Productivity Tracking help me?
There are 4 PROtrack key features:
Customizable Ticketing System
With this feature, you can customize the workflow of your guest support agents based on their area of expertise and vacation rental platform. By this token, some of your agents can work only with pre-booking communication while the others – with the post-booking stage.
For example, you want one of your agents to be in charge of all pre-check-in communication with guests booked through Airbnb exclusively. 
Go to the team member's card and click on the PROtrack tab. Check the respective boxes for the Reservation status setting, Before booking, After booking, and Before check-in, and Channel – Airbnb.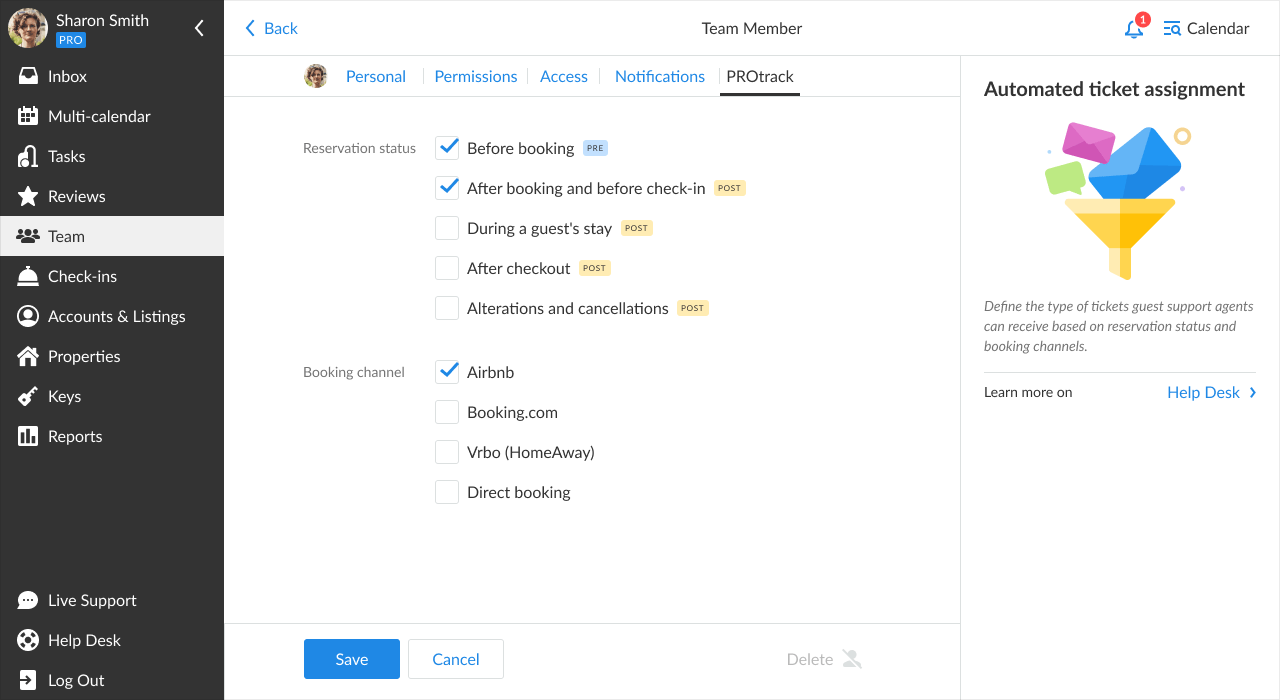 Automated Ticket Assignment
Automatic ticket assignment works together with the iGMS Smart Inbox offering your Guest Support agents full access to message templates and guest information essential for effective and prompt communication. No guest will be left behind!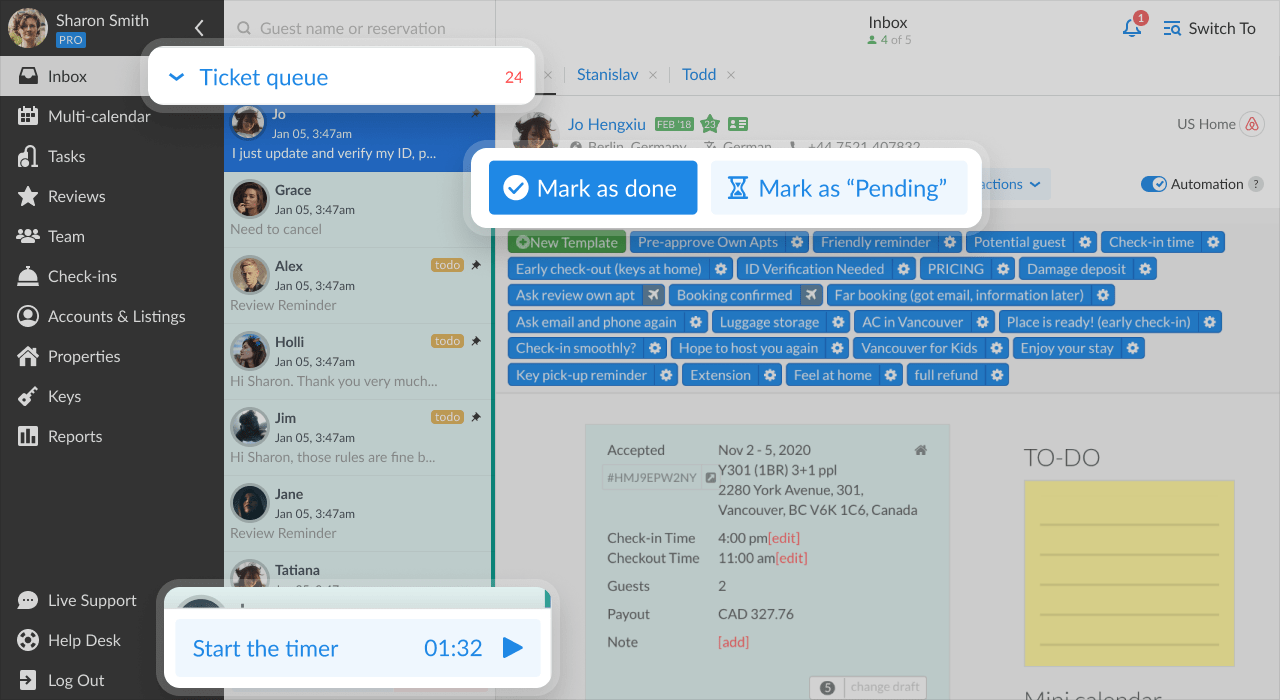 The system automatically detects new unanswered threads and assigns tickets to the agents according to the customized settings you've set for them in their profile. 
iGMS makes sure that every agent gets an equal amount of new tickets to work with. For example, if you have 3 agents working with incoming guests requests, and 2 of them have 20 unanswered tickets, while the third one only has 5, the new tickets will be passed on to this agent.
Automatic ticket assignment will also re-assign unopened tickets from one agent to another if one of them is working more promptly.
The system will not re-assign already opened tickets, even if the agent has not replied yet.
Agents' Productivity Monitoring
Monitor your guest support team activity and quality of their responses: check the status of every ticket and the number of tickets in the queue.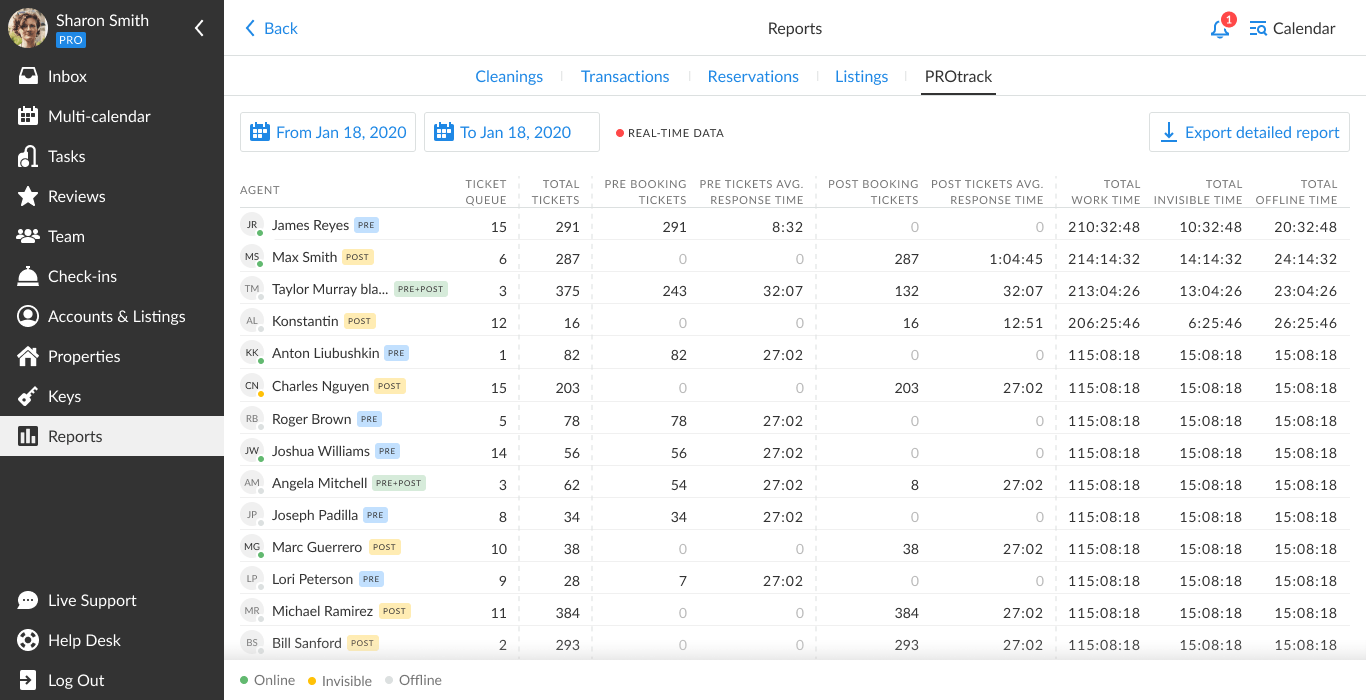 For example, a ticket can be marked as Pending by your agent when there is a problem that needs your attention as a manager. You can check in with tickets in the Pending status specifically to mitigate the issue. 
Within the iGMS interface, your support team will work with the Inbox and key buttons:
Start the Timer

and

Stop the Timer

to track the beginning and the end of their work day.

Pause intake

enables your guest support agents to keep working only with current tickets in the queue. While

Resume intake

requests more tickets to join the queue. 
It helps to keep a healthy balance of incoming tickets for your team members so they do not feel overwhelmed by the volume of it.
You will be able to see the workflow of your agents and analyze the following metrics related to each agent's productivity: 
The number of incoming, pending and closed tickets

Average response time

Total work time

The Inquiry to booking conversion rate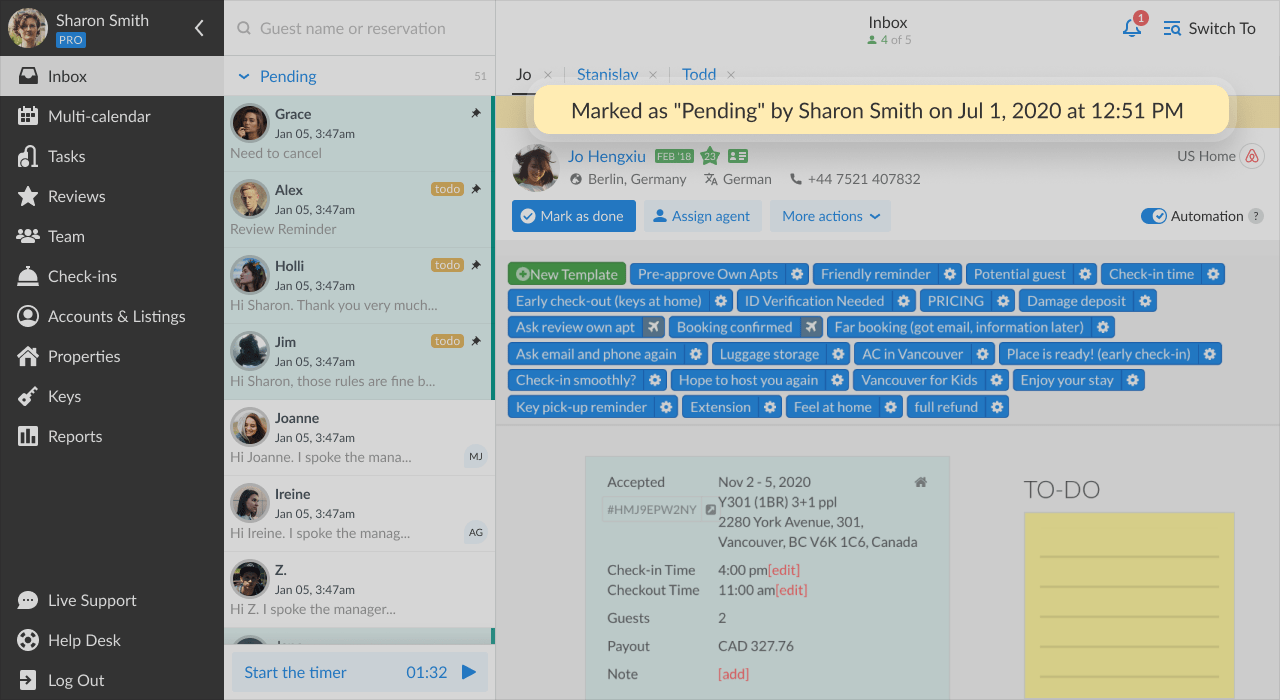 Guest Communication Reporting
Track your agents' productivity with a set of advanced reporting: apply tangible metrics to get a full overview of their performance as a team and for a single agent.
The reporting section offers:
Real-time data updates on every agent's productivity/performance: the number of tickets processed and the time required.

Average response time for tickets in pre- and post booking stages

Sum of the time agents were invisible (in relation to when they stopped intake and started it again)

Option to export a detailed report with essential guest support productivity metrics for a period of time as a CSV file.
Based on the information, in a timely manner, you can decide on changes necessary to ensure the best guest communication processing possible.  
Terms to Navigate Through the PROtrack tools in iGMS 
Guest Support Agent is a team member with a Guest support role, or with granted Guest communication permission. They take care of immediate contact with guests through assigned tickets.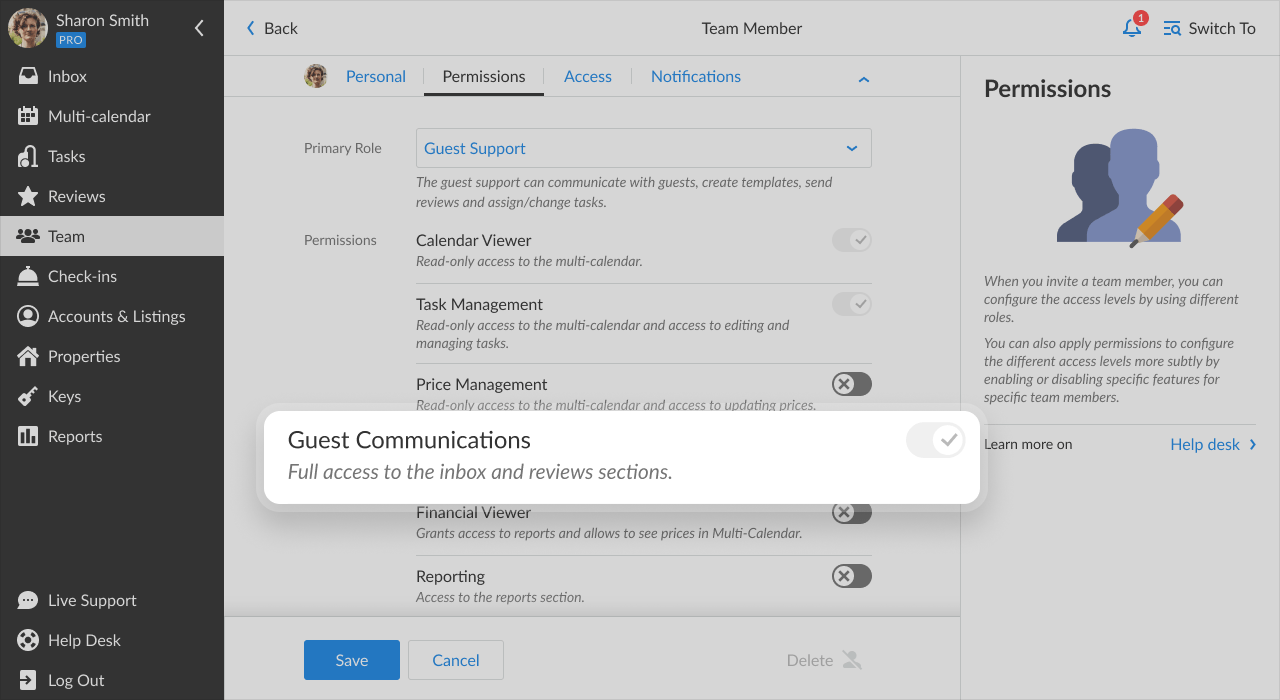 Work time is a period of time when an agent starts the timer and is active, working with assigned tickets. The work time ends when the agent hits the Stop the timer button.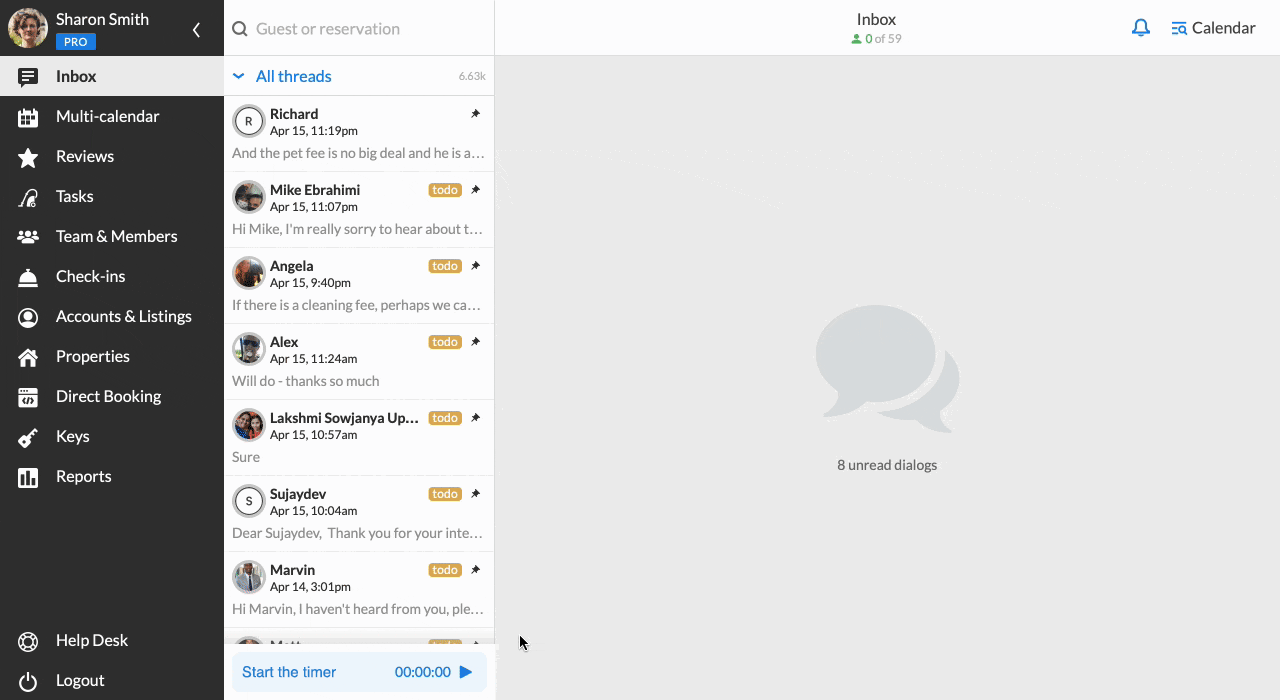 Ticket – a dialog, or a thread with a guest that is assigned to an agent. A ticket can be marked as "Done" or "Pending". 
Ticket Intake – an automated flow of new tickets available to the agent on a session based on their settings in the profile. The agent might pause the ticket intake and work only with the current tickets, or click Resume intake to request more.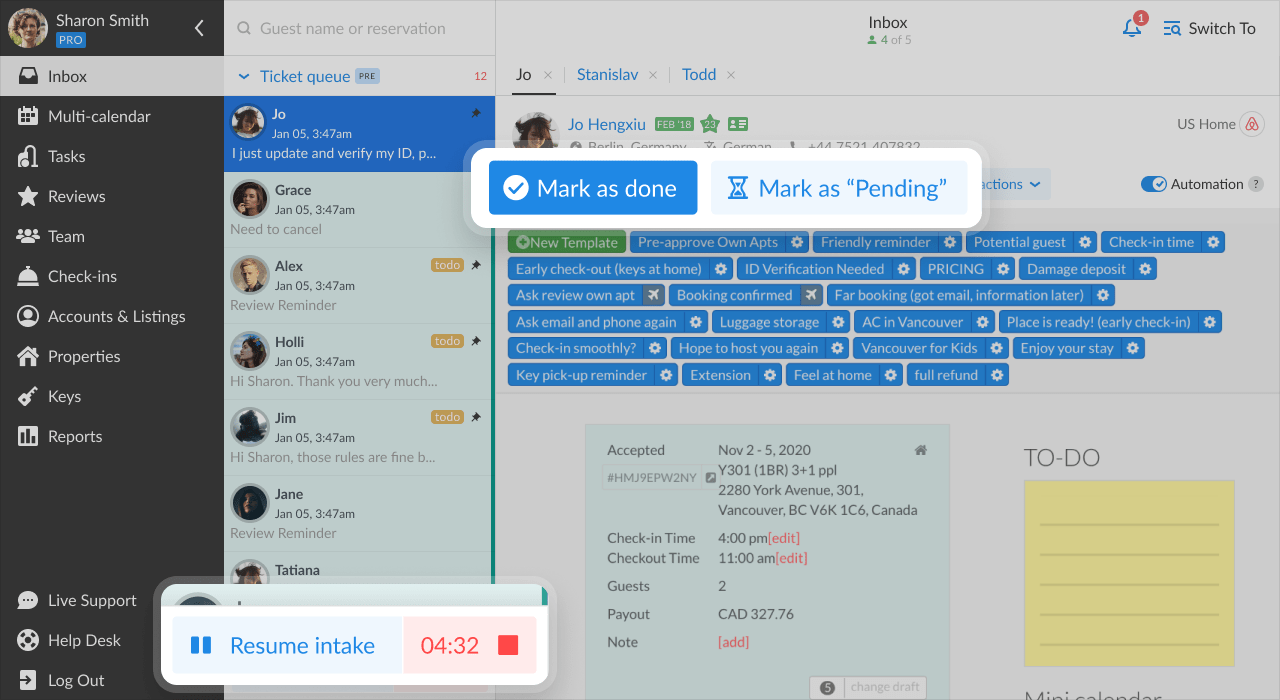 If you have any questions about PROtrack – the Guest Communication Productivity Tracking system, feel free to contact our Customer Experience team via live chat or by email.