Various vacation rental platforms have different rules and settings to manage invoices. For instance, invoicing for Airbnb and Vrbo reservations is automatically processed by the parent platform. This means that if a host would like to modify an invoice, this cannot be done via iGMS. All possible changes could only be applied when altering a reservation itself. 
In contrast, payment processing and invoice management for Booking.com and direct booking channels have different mechanisms and invoicing could be adjusted via iGMS.
Which payment methods are available?
Hosts can charge their guests by credit cards, cash or by using mixed methods, e.g. a reservation can be paid for online, while additional services can be charged upon guests' arrival by cash.
If you want to collect online payments for the reservations from Booking.com and manual direct bookings, make sure you have connected your Stripe account to iGMS. Once integrated, the invoice will be automatically generated when the reservation has been created. 
What information is displayed in the invoice?
Invoice details are displayed in the Invoice Preview section. To access this section, open a reservation card from the Booking calendar and click on the invoice sub-tab: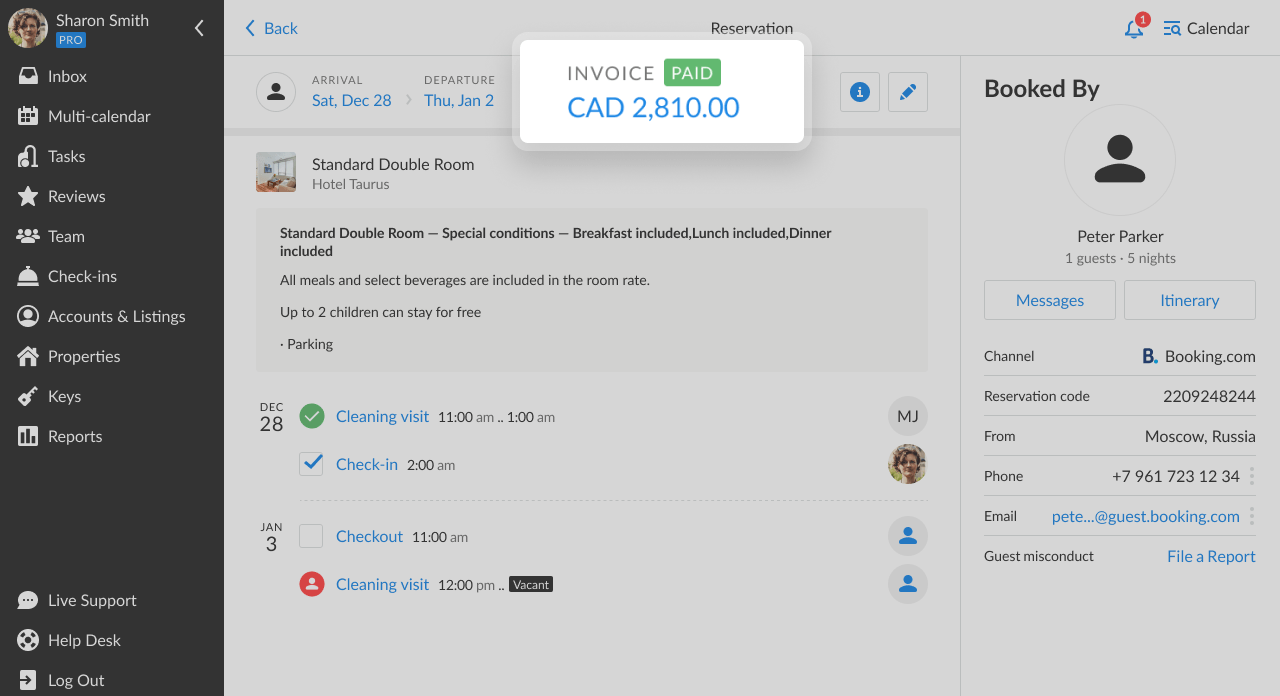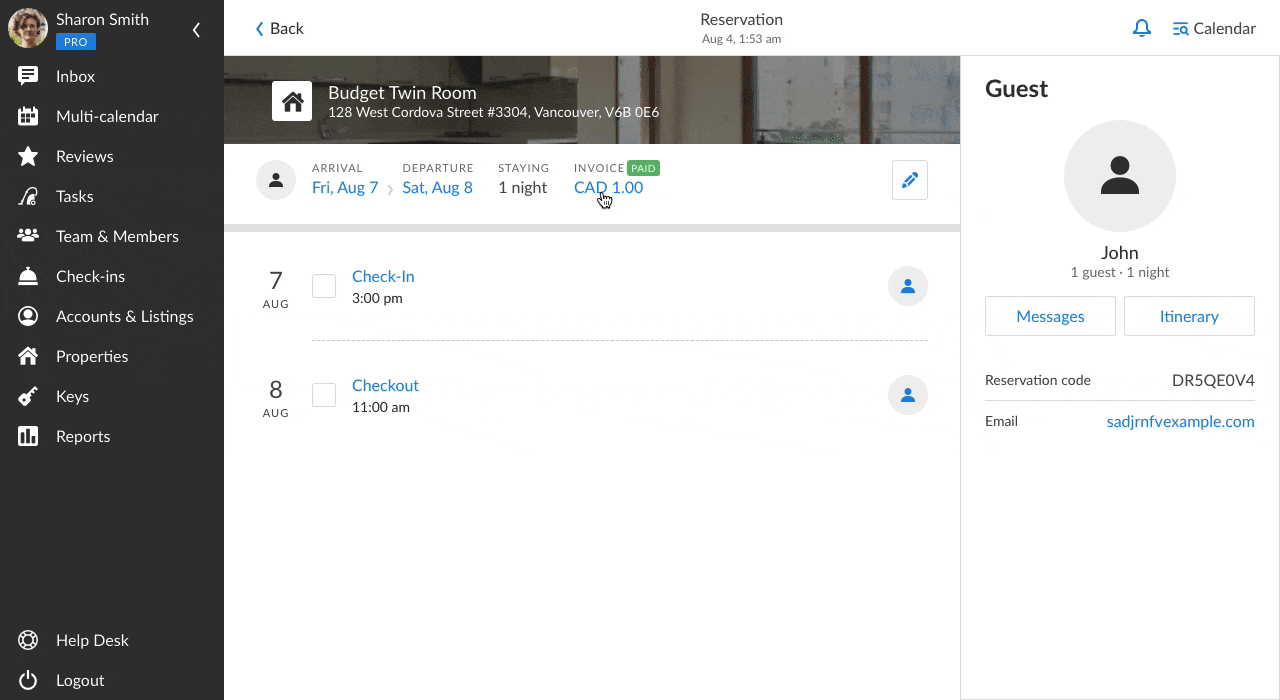 Every invoice has 3 sections: Invoice, Payments and Accommodation. You can easily track a current invoice status, edit billing details, add manual transactions, and share the invoice with your guests.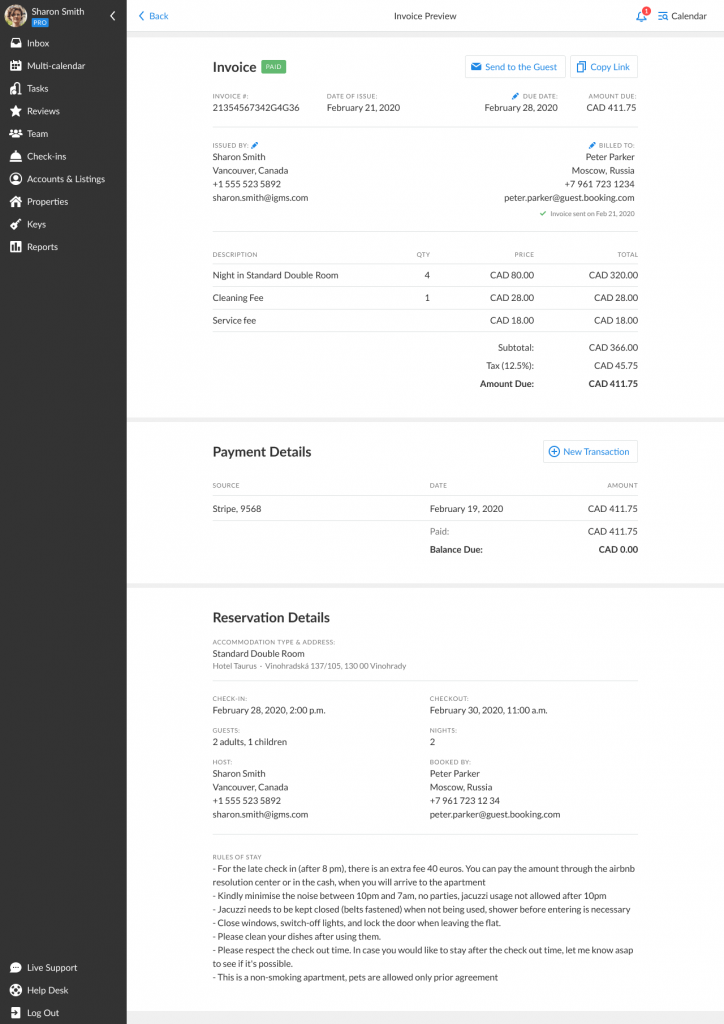 How do payments get processed?
For

Booking.com

reservations:
Check that you set Stripe as the payment processing gateway in your iGMS account.

Once it's done, iGMS starts automatically generating invoices for every new reservation from B.com.

You can track the invoice status via the reservation card and also from the invoice preview: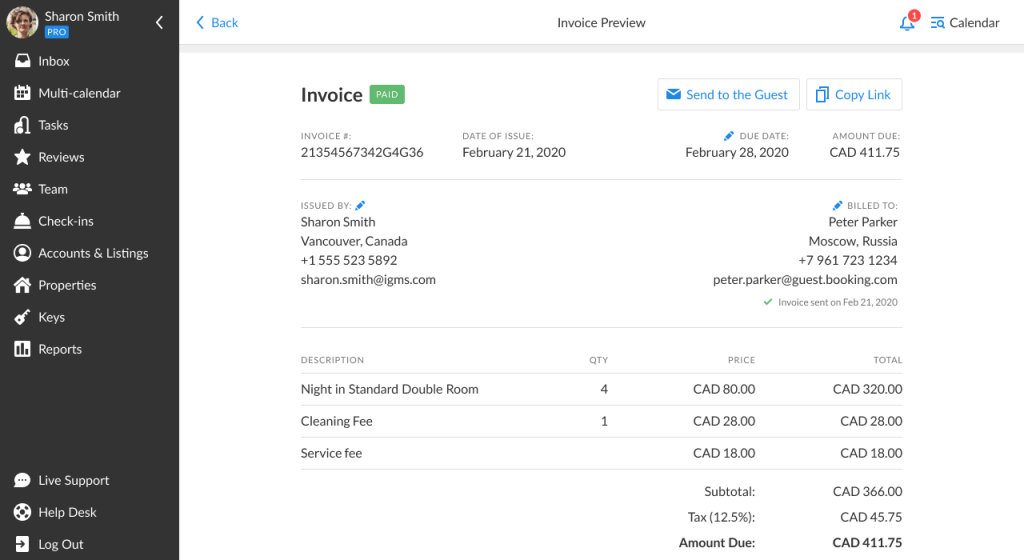 For manual direct reservations:
Enter all the data needed for a manual booking on a reservation card, click the pencil button to view the payout's details:
In the new tab, you can add or modify different fees and taxes according to your pricing policy:

Double-check all the data and click

Apply

. The invoice will be immediately built up by the system.
Is it possible to edit the payout after the invoice is paid?
It's not possible to edit payout information for B.com reservations, however, you can edit fees and taxes even after the invoice has been paid. To learn more about refunding and adding manual transactions, please refer to this article.
How to track the status of payments
Whether it's a Booking.com reservation or a direct booking, the reservation's invoice will show its current status:
Paid status signifies that a guest has successfully paid for a booking.
Unpaid status means that iGMS has initiated a payment and sent an invoice, but a guest did not complete the transaction yet.
Overpaid status means that a client has overpaid, e.g. if he/she has decided to shorten the stay. When you send your guest a refund, the status will be changed to Paid.
Partially Paid status means that a guest has been partially charged for a reservation.
Overdue status indicates that an invoice sent to a client hasn't been paid and is past due.
Unsent status (only for manual direct bookings) means that iGMS has not sent the invoice to a client. This may happen if you don't know the email of your guest or you decide not to send an invoice to the guest by unchecking the respective checkbox.
How can I share an invoice with my guest?
If a reservation has come from B.com, the invoice will be sent by the vacation rental platform automatically. For direct bookings, you can share your invoice using one of these three options:
When creating a direct booking, mark the checkbox

Send an Invoice to Guest's Email

and iGMS will send a new email on your behalf.

Share the invoice after creating a reservation. To do this open the invoice and click

Send to Guest's Email

button.

If you do not have access to your guest email, then you can share it via the channel convenient for you using the link. Open the invoice and click the

Copy link

button. Then you can share this link via text message, WhatsApp or any other messenger.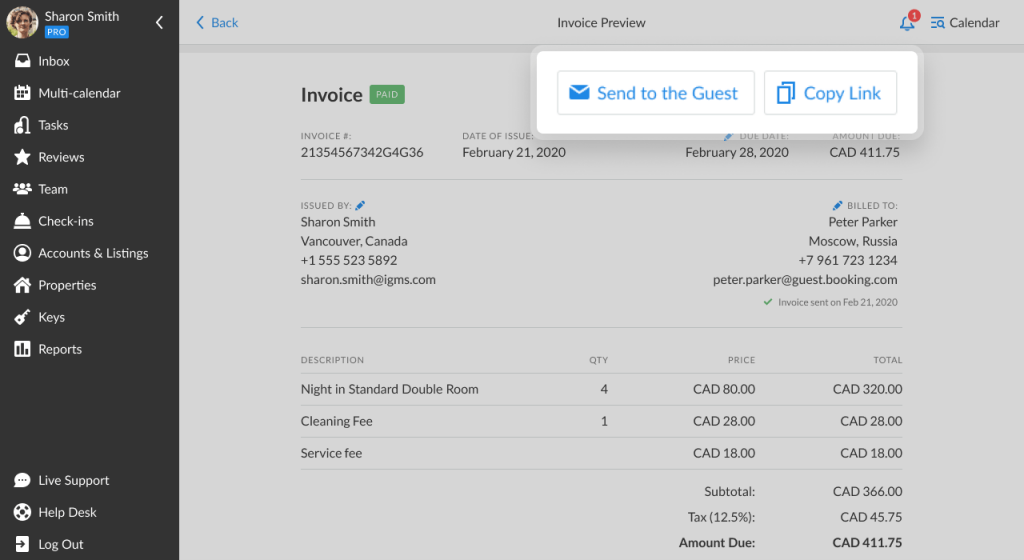 Let us know if you have any questions about how to use invoices with iGMS via email.