iGMS has been chosen as an Official Connectivity Partner by Booking.com and our API integration grants high-value connectivity services. It allows for setting up a Booking.com property from scratch, connecting an already existing property, and managing availability and rates via a single dashboard. 
Booking.com Property Sync Statuses
The connection with Booking.com secures all the calendar, listing and financial data imported/exported accordingly. There are a few sync statuses you need to be aware of when running a Booking.com property via iGMS. Each status is confirmed by a respective email notification from iGMS and alerts inside the system (in the property's editor and Accounts & Listings tab).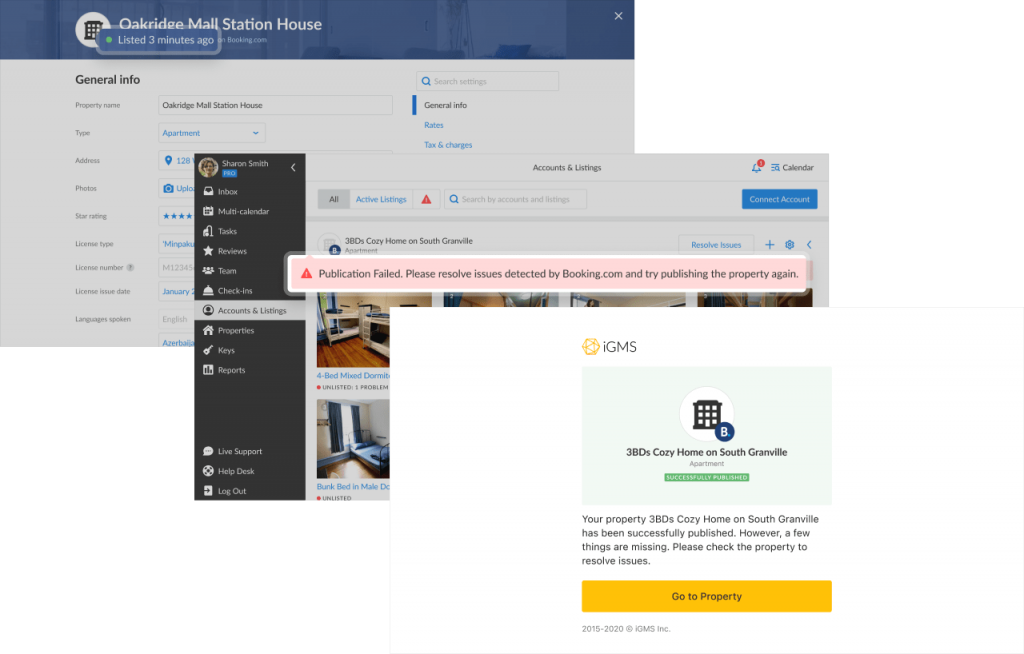 Published – the property has been successfully published and is available for reservation. In some cases, you might be asked to make a few corrections in the property's editor based on the Booking.com requirements. The property will be listed and active at the same time.
Submitted – the property has been submitted to go through a regular security check by Booking.com. Usually, it may take up to 12 hours to get the property verified and published. If a property didn't get published after the assigned time period, please contact Booking.com to learn about the reasons.
Publication failed – the publication of the property failed due to critical issues detected by Booking.com. Before the next attempt to publish, you need to resolve the issues in Booking.com property's editor on iGMS.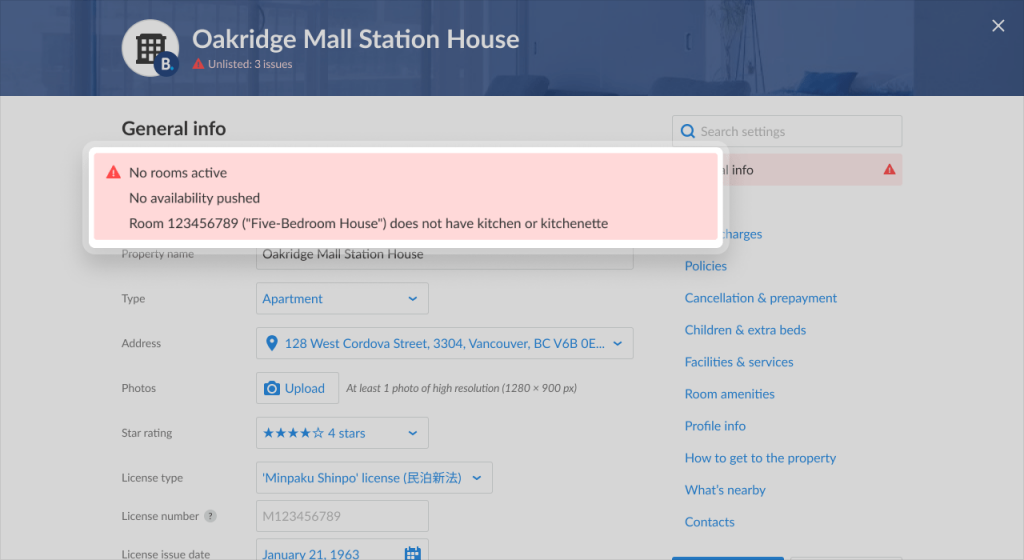 Unlisted: Closed manually – the property has been manually unlisted (closed) by you or some of your team members. You can always open it again in the property's editor.
Unlisted: Closed [other reasons] – the property has been closed by Booking.com. In this case, you first need to contact Booking.com about the reasons for unlisting it. Once the issue gets resolved on Booking.com's side, you can try publishing the property again.
Disconnected – the property has been manually disconnected from iGMS but stays published on Booking.com. The iGMS system settings no longer apply for it.
Note that tracking your property's sync status allows you to take control over its overall performance. Once you notice an indication of the property being inactive, you can find out why and what steps to take to have it open for booking again.


Let us know if you have any questions about Booking.com sync statuses via email. Join our weekly product webinars to see the system in action and ask any questions about it!