Connecting your Vrbo account to iGMS is a simple and efficient method for managing your Vrbo properties. There are three connection scenarios, and to begin the process, you need to identify the appropriate connection type that suits your needs. Detailed information about these connection types is provided below for your reference.
Important:

Before starting the integration, you need to have a Stripe account connected to iGMS. Please note that once you have your Vrbo account connected, Vrbo no longer processes payments, and you become the merchant of records for transactions.
Once you complete Steps 1-3 below, you need to contact Vrbo and sign a content API contract.
Please Read: Using Software to Manage Bookings on Vrbo.
Step 1 – Create a Vrbo account in iGMS
Go to the Accounts & Listings tab and click on the Connect Account button.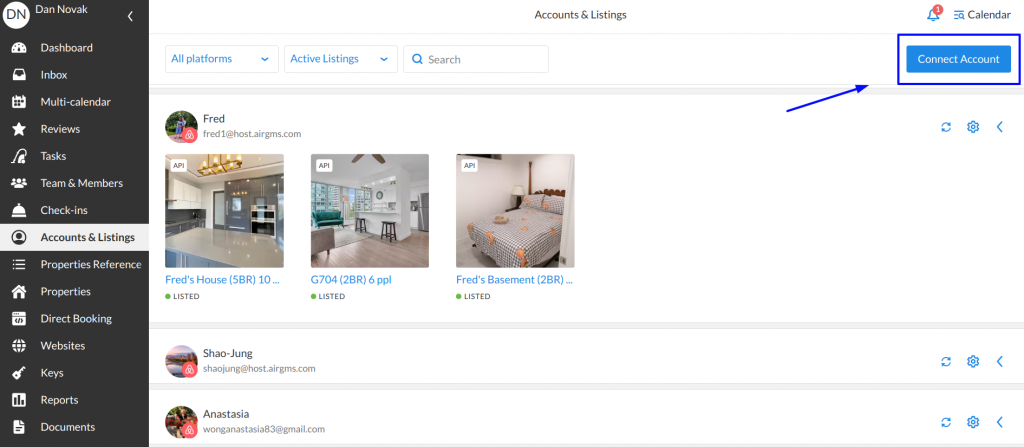 Choose the Vrbo channel and click Create New Account.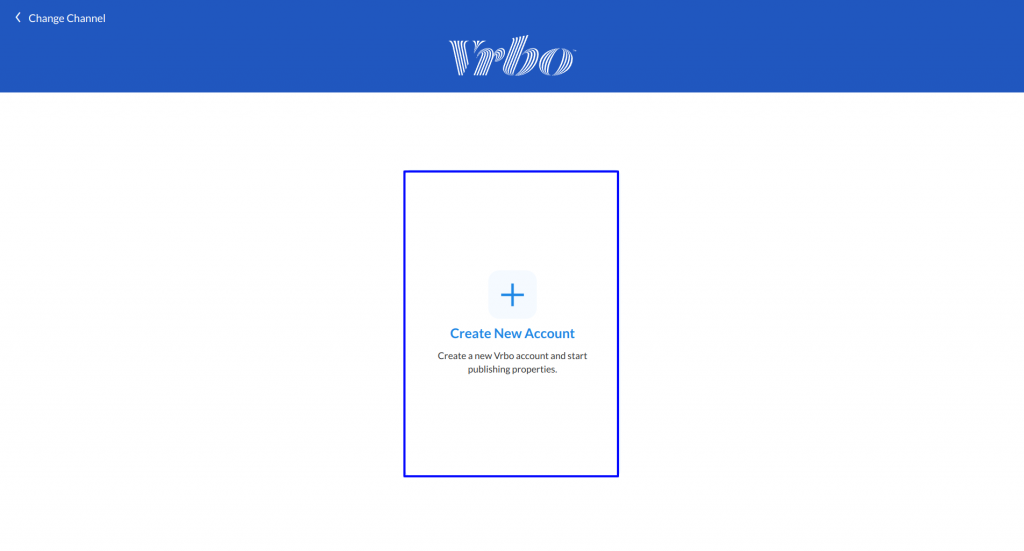 Fill in the Advertiser name (your business name), and check the default listing settings, such as Booking Type, Cancellation Policy, House Rules, and click Create Account.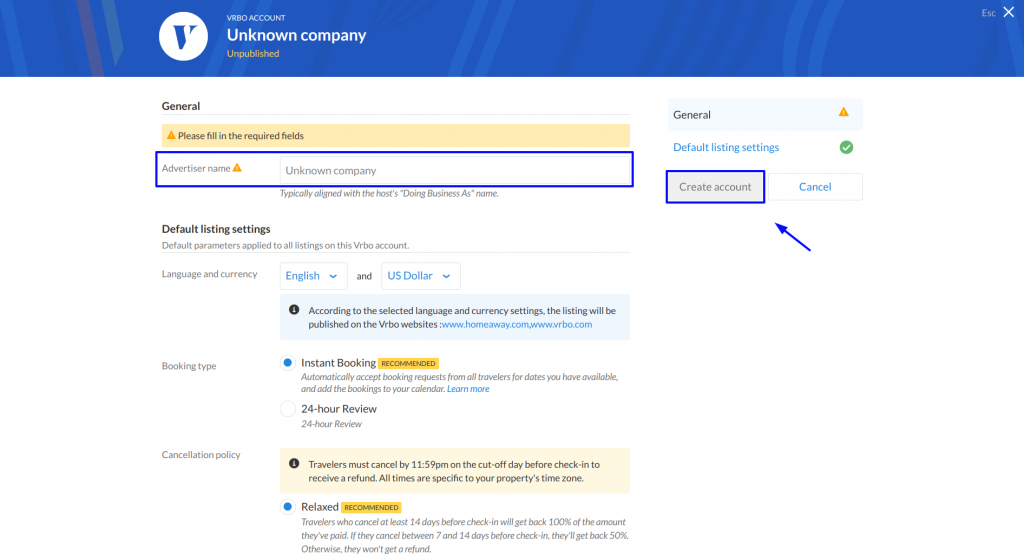 Step 2 – Create (or Copy) a Vrbo listing in iGMS
Once you create a new Vrbo account on iGMS, you need to create a new Vrbo listing or copy the existing one.

To create a new listing from scratch, go to the Accounts & Listings tab, find your new Vrbo account, and select Create New Listing.



Fill in the Listing Details. Kindly note that some fields are required, such as Property Name, Headline, Description, and Address.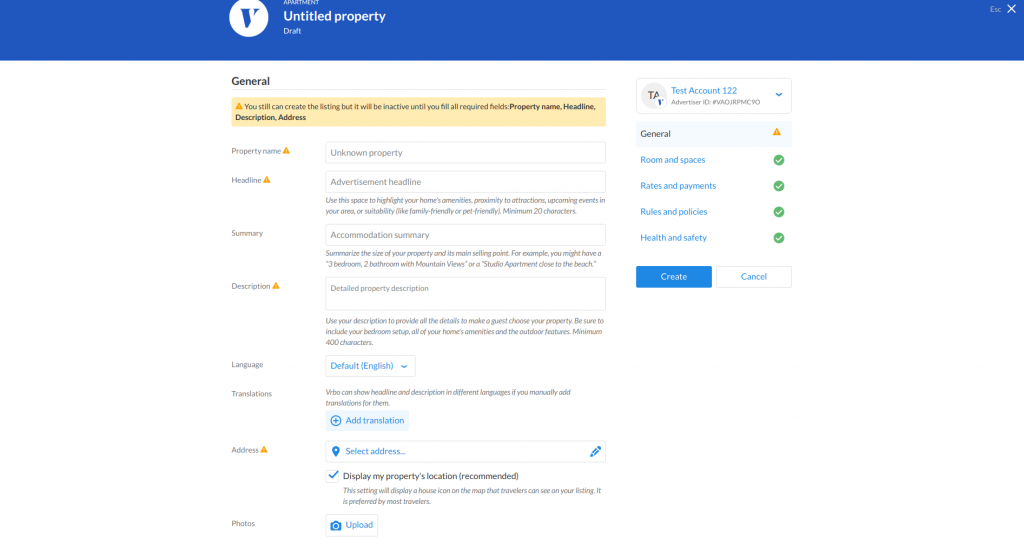 Another way of creating Vrbo listings is copying the existing ones. For example, you may have a listing on Airbnb that you'd like to have on Vrbo as well, thus, you should open the property you wish to copy, and click on the Publish Listing on Vrbo button.
The Listing Information will be automatically pulled from the Airbnb Listing Editor. However, we would still recommend you check all the settings carefully before you click Create to make sure the Listing Details are correct.


Step 3 – Fill out the Onboarding Form
Now, you need to Fill Out Vrbo's Onboarding Form, sign Vrbo's Listing Agreement, enter Credit Card information for commission billing, and keep in touch with the Vrbo implementation specialist. Please remember that your request will be different depending on your scenario.
If you already have a Vrbo account and manage it using a different property management system, contact the Vrbo support team and request the switch from your current PMS to iGMS
If you didn't have a Vrbo account before, you should contact the Vrbo support team and ask them to activate your new Vrbo account.
If you already have a Vrbo account and manage it on Vrbo, contact Vrbo support and ask them to switch your Vrbo account to iGMS.
Please note that you'll have to provide the Vrbo team with an Advertiser ID that will be generated on the iGMS side after you create a Vrbo account. The Advertiser ID can be found below the name of the Vrbo account under the Accounts & Listings tab.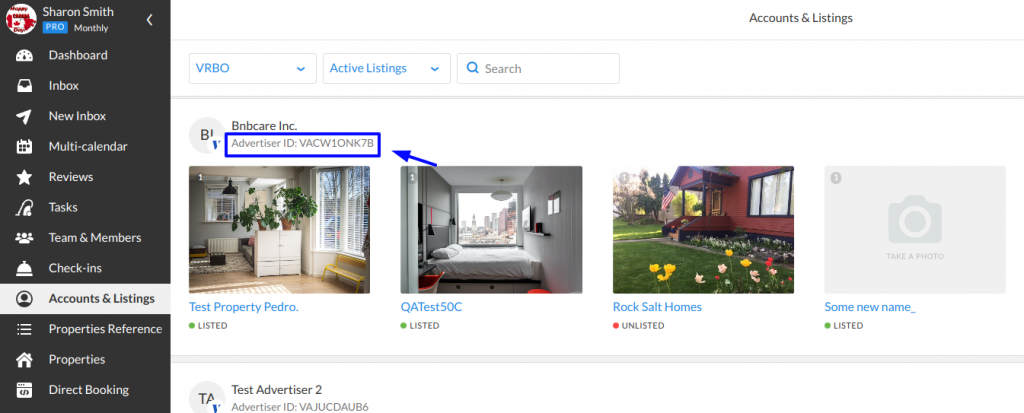 As soon as you submit a request, a Vrbo Onboarding Specialist will contact you to conduct an integration project. Once this project is completed, you should receive a completion email from a member of the Vrbo Onboarding team.
Do you have questions for Vrbo before you begin? Please email PMSalesInquiry@expediagroup.com.
How to Contact Vrbo (based on the region)
If you have any questions about iGMS, please contact our Customer Experience team via LiveChat or by email at support@igms.com.