In the current reality of the vacation rental business, direct bookings have become another vital source of bookings for hosts. Direct bookings are attractive because costly commissions from OTAs are avoided and they present an opportunity to advertise listings in many more ways. iGMS allows you to incorporate direct bookings management into your hosting processes as easily as one, two, three. 
How do I create a direct booking on iGMS?
Each time you get a booking from your website, Facebook page or any other channel, a direct booking on iGMS can be created in a few steps: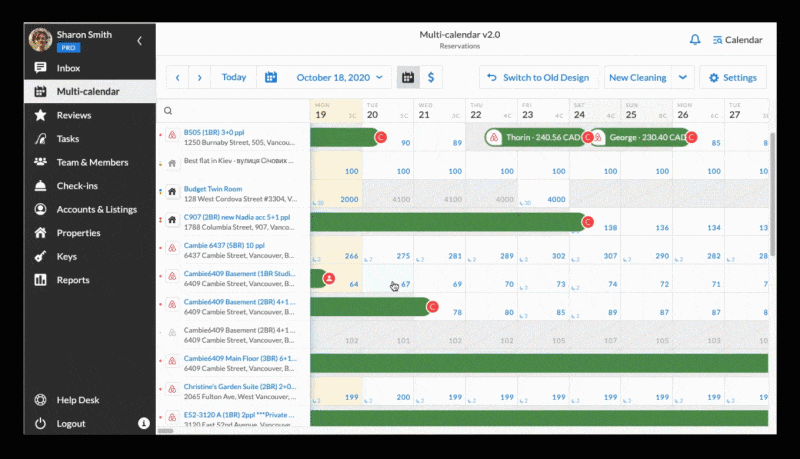 Choose the necessary dates via the Multi-calendar.

Click

Book

, and you will be redirected to the direct booking reservation card.

Enter the guest's contact information, the number of booked nights, the payout, the host's contact information.

Pick the color of the reservation from the palette and click

Save.
Once the booking is registered in iGMS, it can be managed like regular bookings from OTAs. Moreover, our system will ensure that the availability is updated accordingly across all channels connected to iGMS.
Tip: Direct bookings can be labeled in various colors: blue, purple, lilac, gold, and black. You can color-code your direct bookings to distinguish the stays depending on  channels or different parameters. For example, black can be for already paid-out stays and purple for those that are yet to be paid in cash.
How do I automate guest communication for direct bookings?
Once you've registered a direct booking in the Multi-calendar, the iGMS system automatically creates a thread with the guest so that you can process your communication via the inbox. You can access the thread by clicking on the reservation in the multi-calendar, or by entering the direct booking code in the inbox search bar. All presets for the property message templates will function for the direct bookings guests. Learn more about the iGMS Unified Inbox and how to best use it for your property management.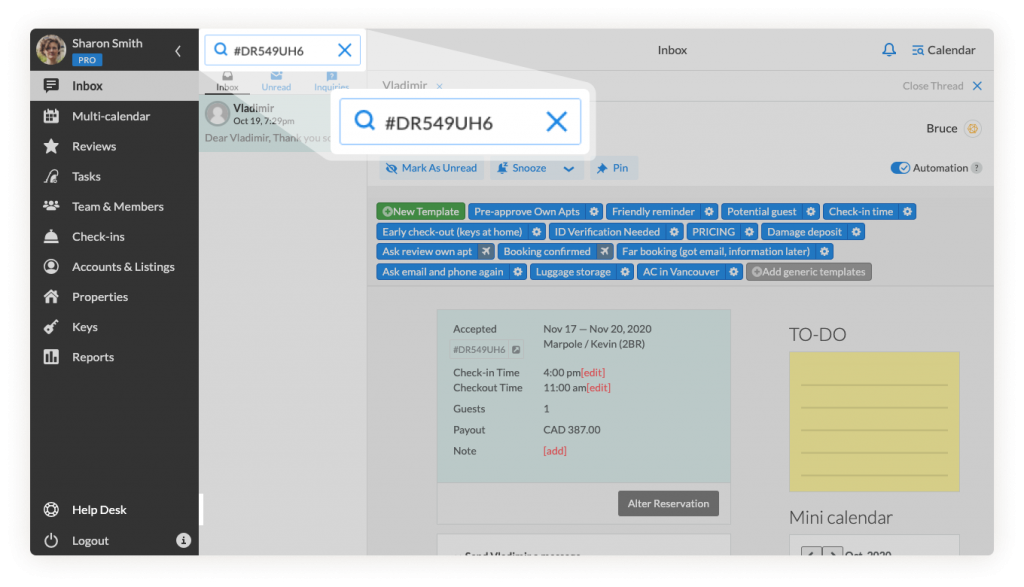 Tip: Take advantage of the automation and keep your guests informed and taken care of. For example, you can send the check-in instructions with all the pass codes and the location three days before the check-in and inquire about their stay two days before the checkout. This way, you can improve your guest's experience.
How do I run a cleaning routine for direct bookings?
Great news is that the iGMS system schedules a cleaning visit upon every new checkout. It means that once you create a direct booking on iGMS, the system takes care of the cleaning after the stay. All you have to do is to invite your cleaning team to iGMS, if you haven't done so yet, and enable your cleaning tasks auto-assignment.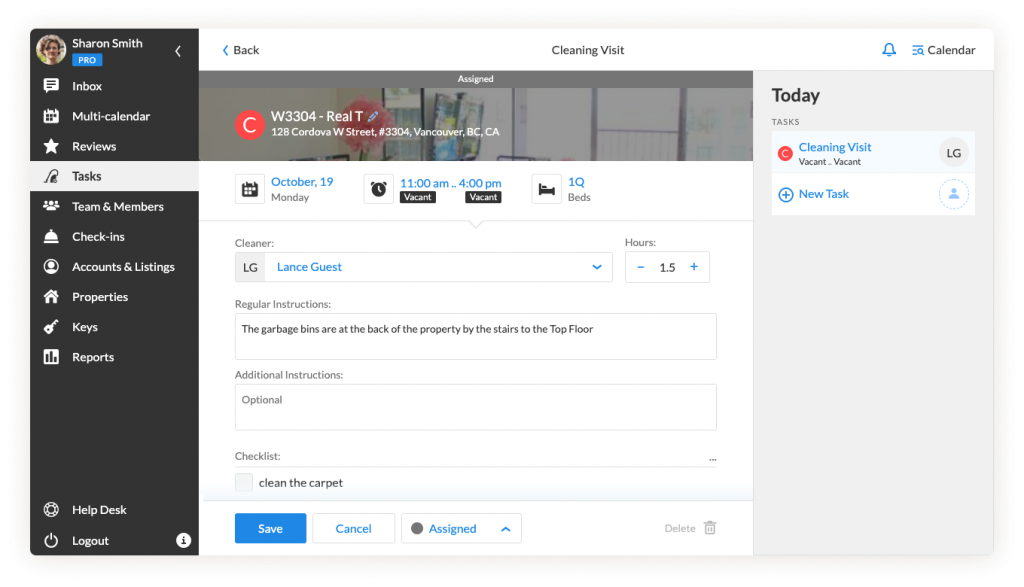 Once a cleaning visit is assigned to the respective cleaner, they will get notified about it twice: when the visit got scheduled by the system and the evening before the visit.
Tip: To improve your cleaners' performance, attach a checklist to your cleanings to ensure your properties are crystal clean in no time.
How do I automate payment processing for direct bookings?
iGMS allows you to handle all sets of activities connected to your direct bookings, including invoicing your guests and processing payments. First, connect your Stripe account to iGMS to ensure fast and safe payment processing for your direct bookings. With the integrated Stripe account, you can charge your guests online, in cash, and even collect mixed payments. Once you've connected your Stripe account, invoices will be automatically created for every new direct booking including all the necessary data you have added: guest's contact details, payout, fees, host's contact details.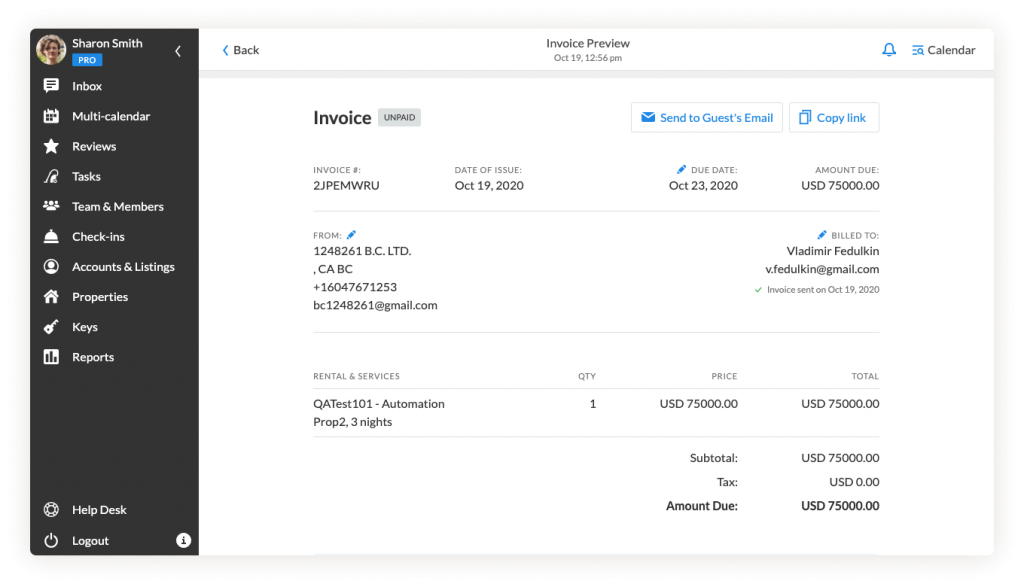 Every invoice is editable and allows for entering manual transactions. For example, there was a damage you want to charge your guest for, or a guest requested additional services and is willing to pay you personally in cash. You can send an invoice to the guest anytime: when creating a booking or as a link right after you edited it. Learn more about invoice management on iGMS and how it can be of help in running your vacation rentals.
How do hosts benefit from managing direct bookings via iGMS?
The iGMS direct booking management toolset secures every stage of the booking cycle: automated guest communication via the Unified Inbox, automatically scheduled cleaning visits and your cleaning team's respective notification, online payment processing and invoice management. Moreover, once the direct booking is in iGMS, our system runs regular syncs to ensure availability is up to date, prevent double-bookings and keep your property management within a single dashboard.

To see the iGMS tools in action or address any of your questions, book your spot at the iGMS Product Weekly Webinars. Or, contact our Customer Experience team via email. We will be glad to be of help.