The iGMS Direct Booking Widget is an essential tool for increasing your occupancy rate, especially if you have your own website. With the widget, your guests can make reservations online directly on your property website and pay according to the preset payment policy.
What Is a Direct Booking Widget?
A Direct Booking Widget is a form that, once installed on your website, gets automatically filled with the rates and availability for a specific property. Your guests can select dates and book them right away. When you receive a booking through the widget, the respective dates get blocked for the property on your iGMS Multi-calendar.
Note that you need to install the widget for every property you want to make available for booking through your website.
Can I Customize my Direct Booking Widget?
You can adjust your preferences on how the direct booking widget will work in the Direct Booking section of the main menu to the left.
Widgets
In this tab, you can either embed your direct booking widget on the website or install a plugin.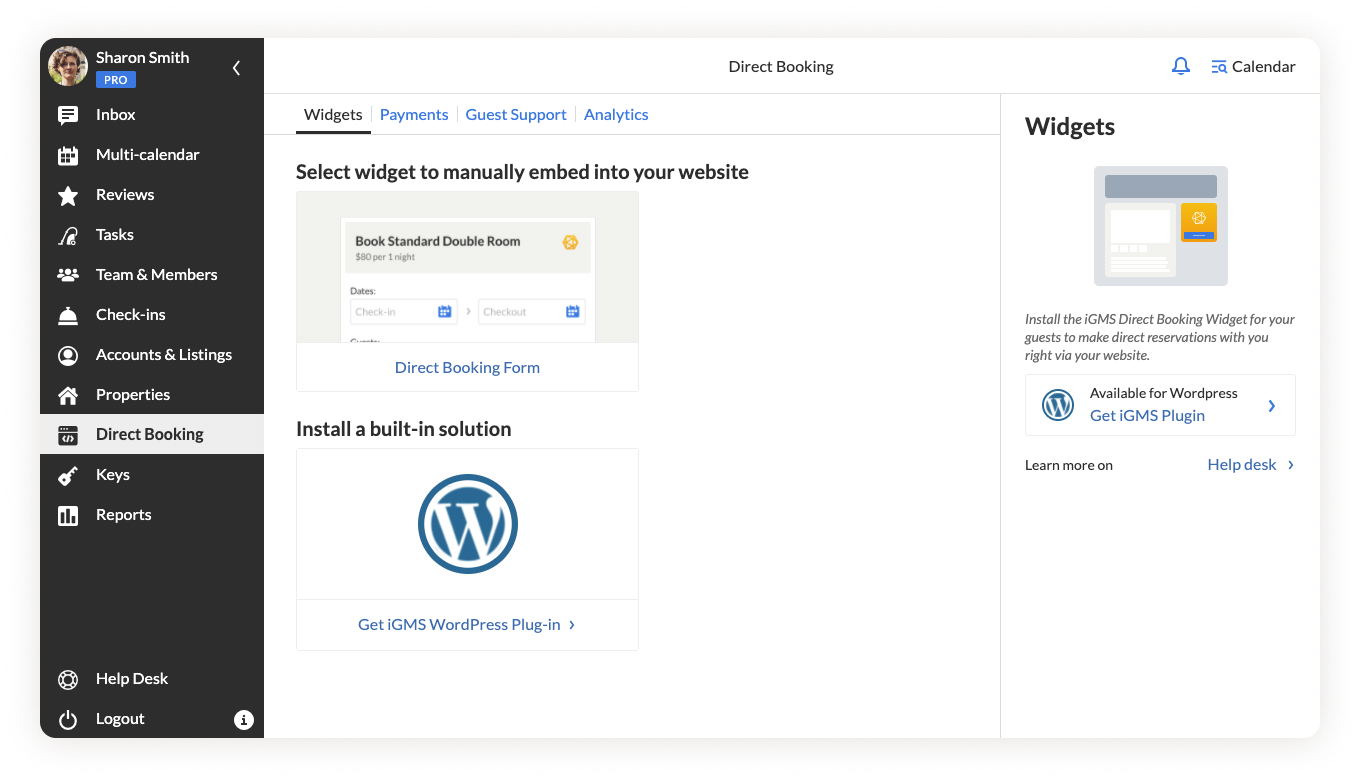 Payments
This tab is of great importance: here you can define your Payment Terms, add security deposits and apply different types of Cancellation policies. Being upfront about the charges will prevent miscommunication and ensure a smooth booking process for your guests. 
Your Stripe account integrated with iGMS will let you collect payments online and send your guests invoices, using iGMS's Invoice Management tools.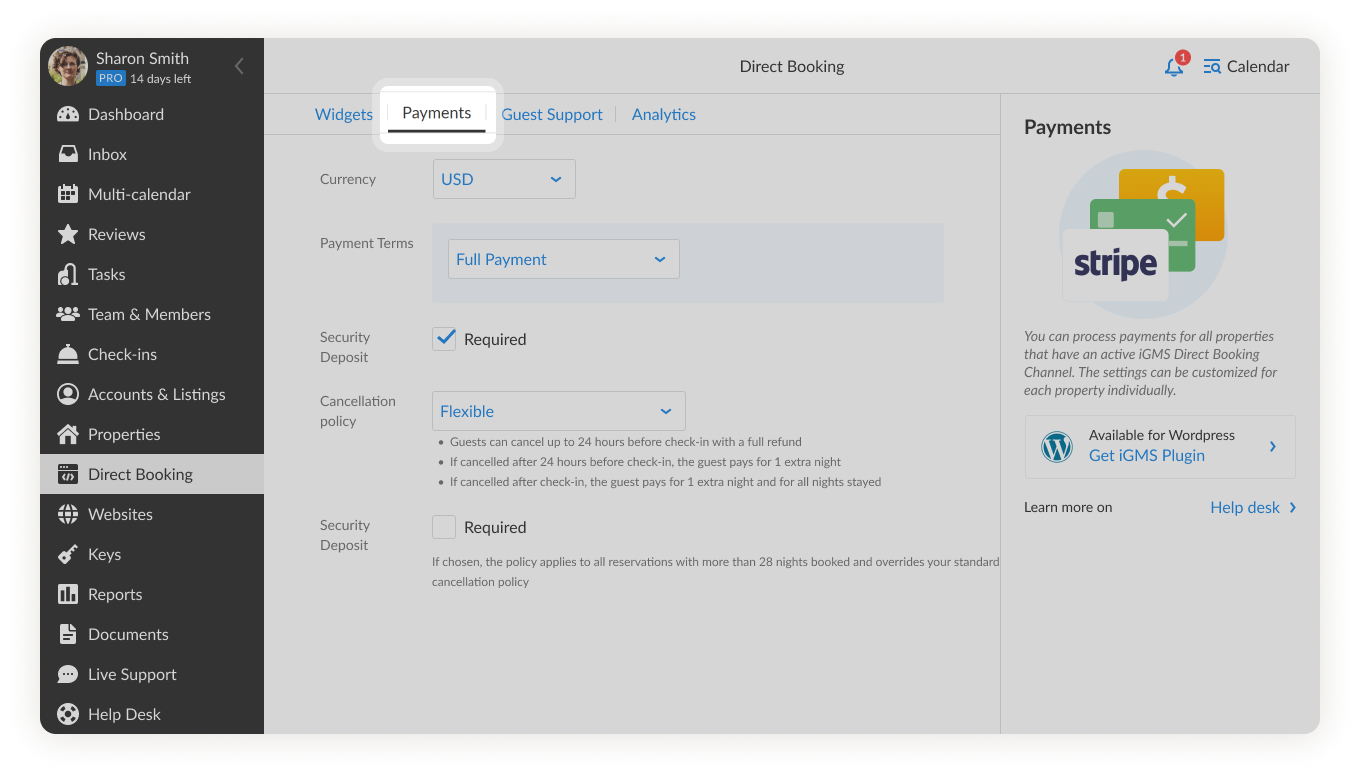 Note: To start accepting payments, you can connect your Stripe account.
Guest Support
Here you can provide the contact details of a person or help center that guests can reach out to after they have made a reservation.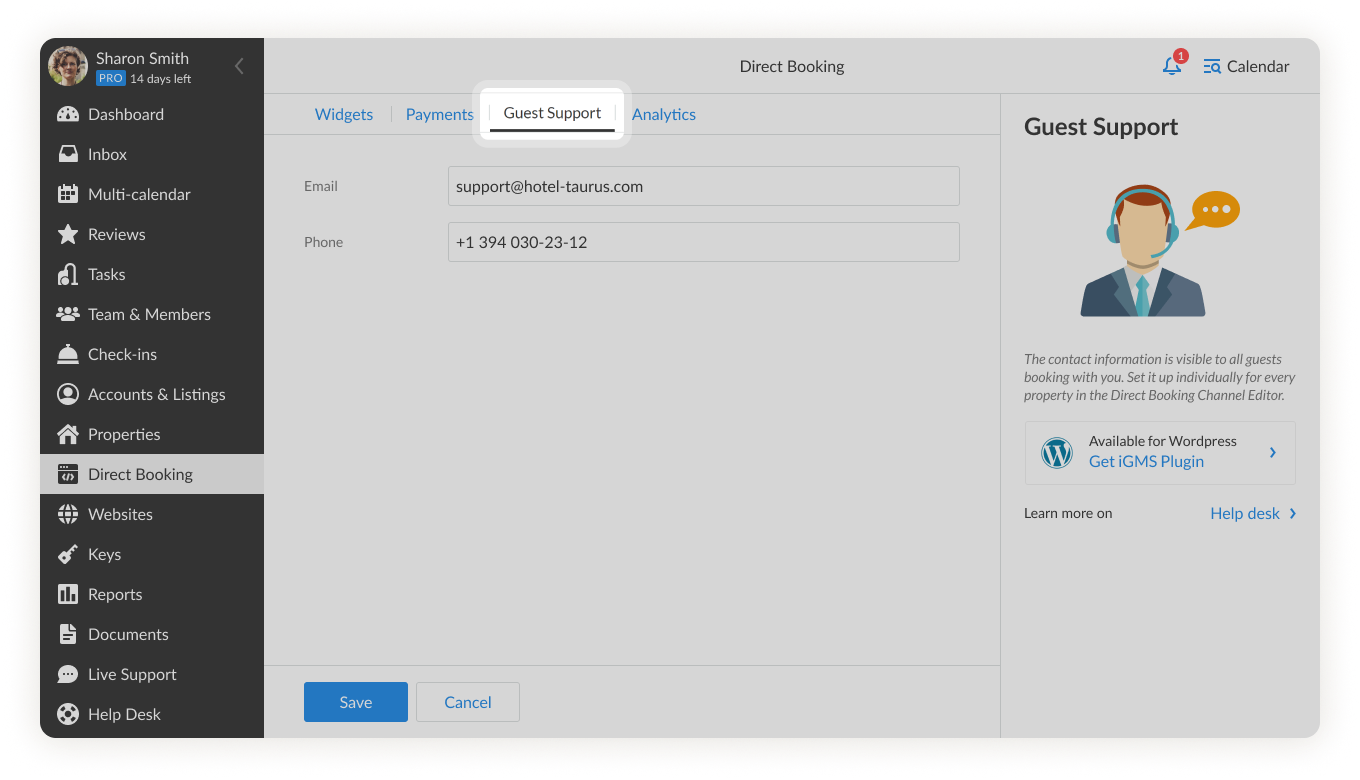 Analytics
This tab is under development and will be available soon. Here you will be able to see how your property performs in terms of occupancy rate and revenue.
Design and Color
You can customize your Direct Booking Widget with your brand colors to match your website. You can also choose the text of the key buttons. Modifications like these will add consistency to your page and help to earn the trust of your prospective guests.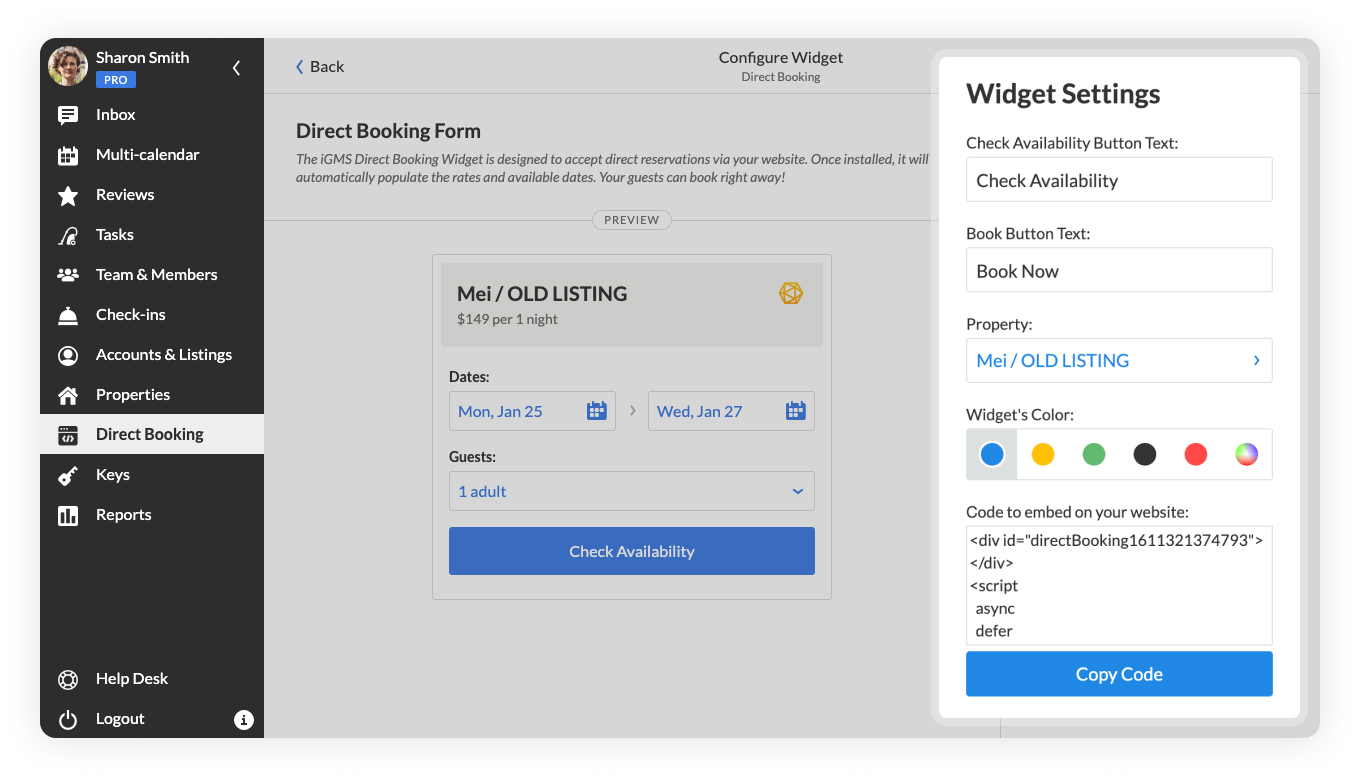 Before you start, make sure that your property is ready to accept bookings and has all the information necessary in the Direct Booking Channel.
How Do I Create a Direct Booking Channel for my Property?
The Direct Booking Channel is automatically created for all your existing properties. To edit it, you just need to click on the Direct Booking Channel in the Channels section.
However, to create a new property, you should follow  these steps:
Go to the

Properties

section to create a new property or open the one that does not have any channels. You can find some guidance on

how to set up your property on our Help Desk

.

Once the property is created, you will see the direct booking channel in the

Channels

section to the right.
    3.  Click on the Direct Booking Channel to open the settings.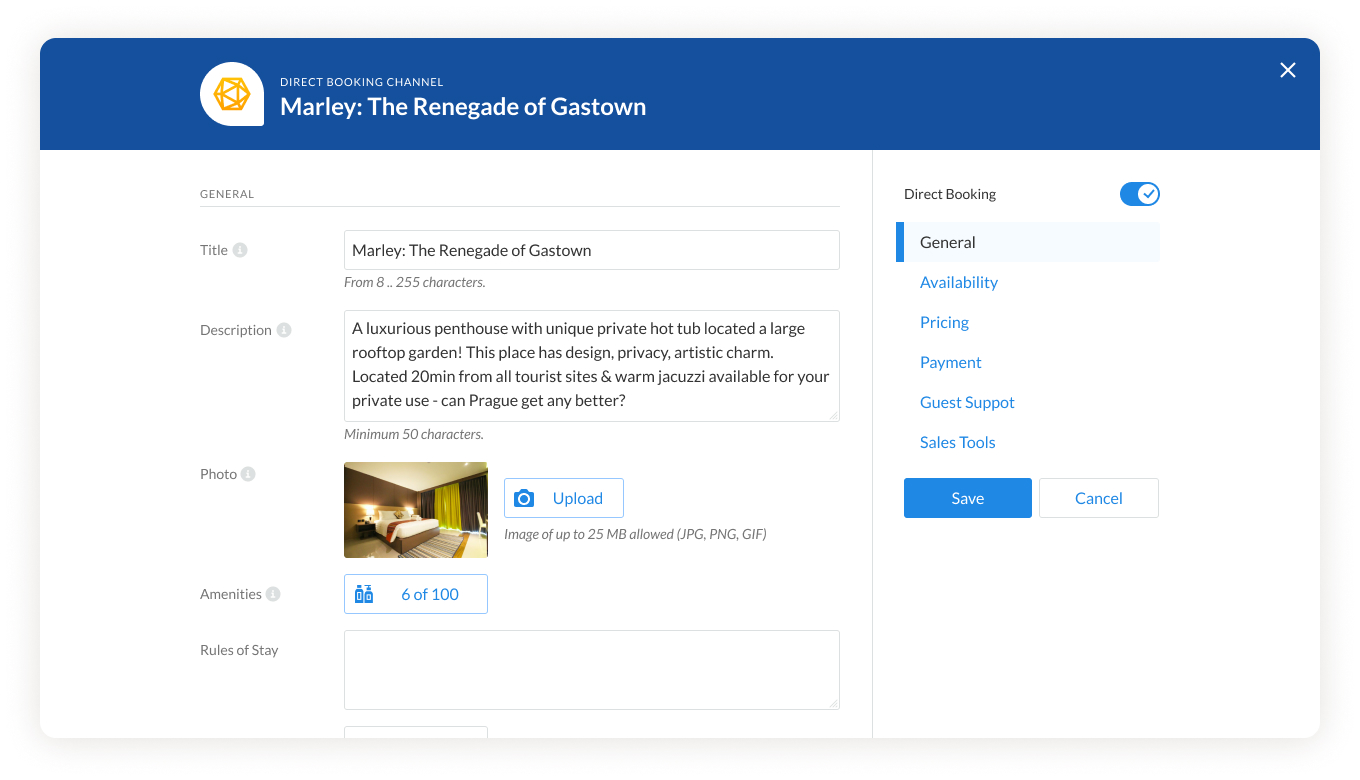 4. Fill in the information to proceed.
    5. Click on the Save button.
Note: If a property does not have any availability or prices, make sure to set the values and make the property bookable for your guests.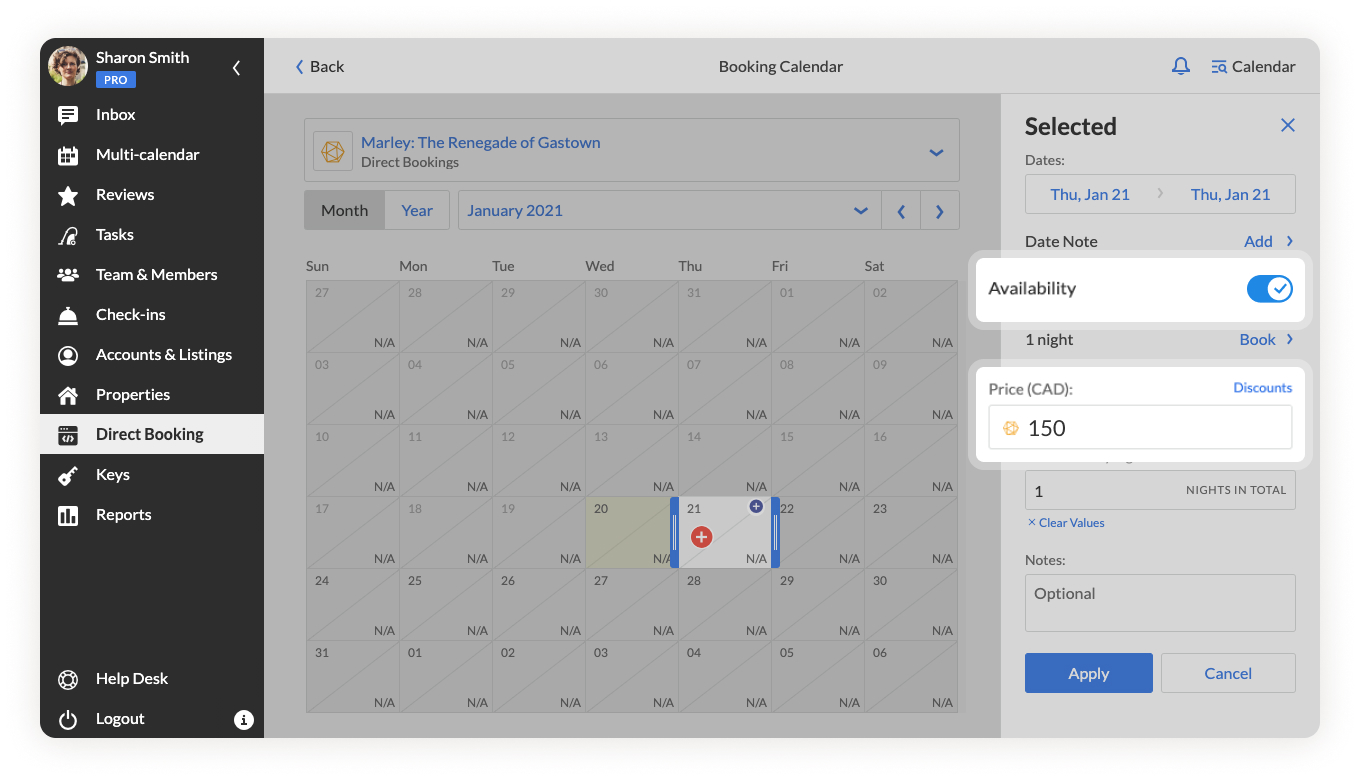 The widget for this property is ready to be installed or embedded on your website!
How do I Embed the Direct Booking Widget in my Website?
You can embed either the Direct Booking Form or iGMS WordPress Plugin into your website. Let's look at both options.
How to Install the Direct Booking Form?
Make sure that your

iGMS Direct Booking Channel

is up and running in the

Property Editor

. 

Go to the

Direct Booking

section. In the

Payments

tab, define your online payment policy, and then enter the contact information in the

Guest Support

tab.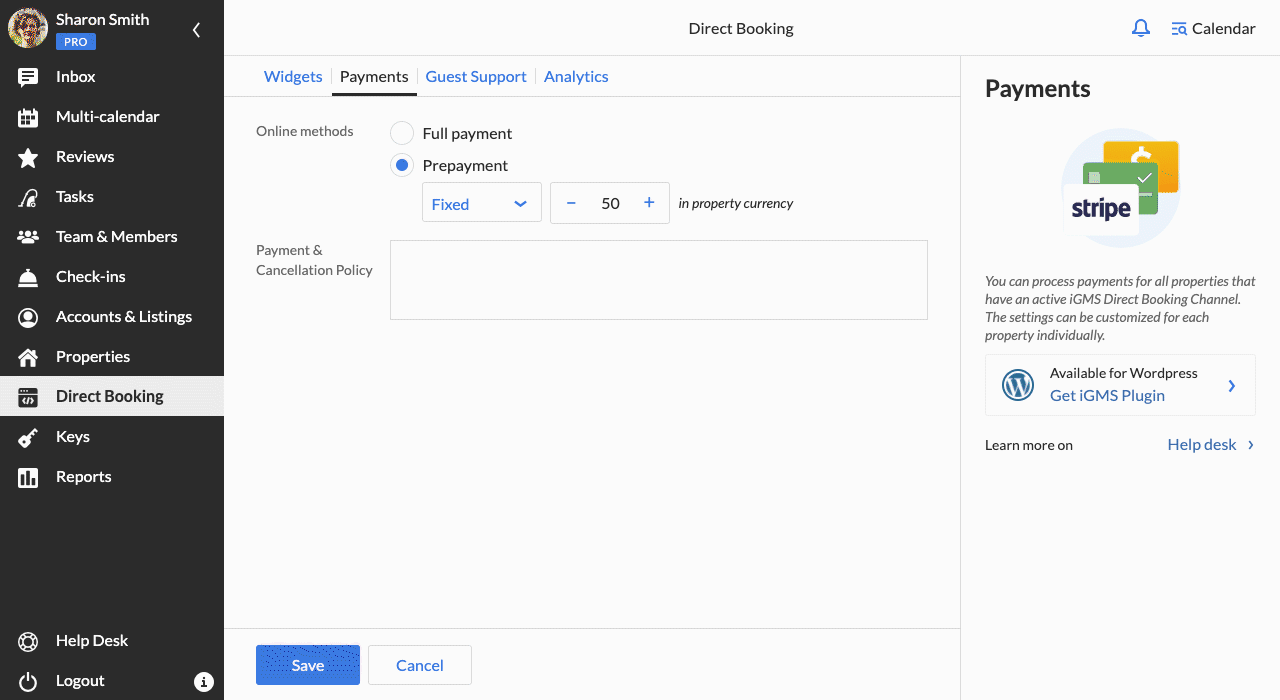 3. Go to the Widgets tab, click on the Direct Booking Form link.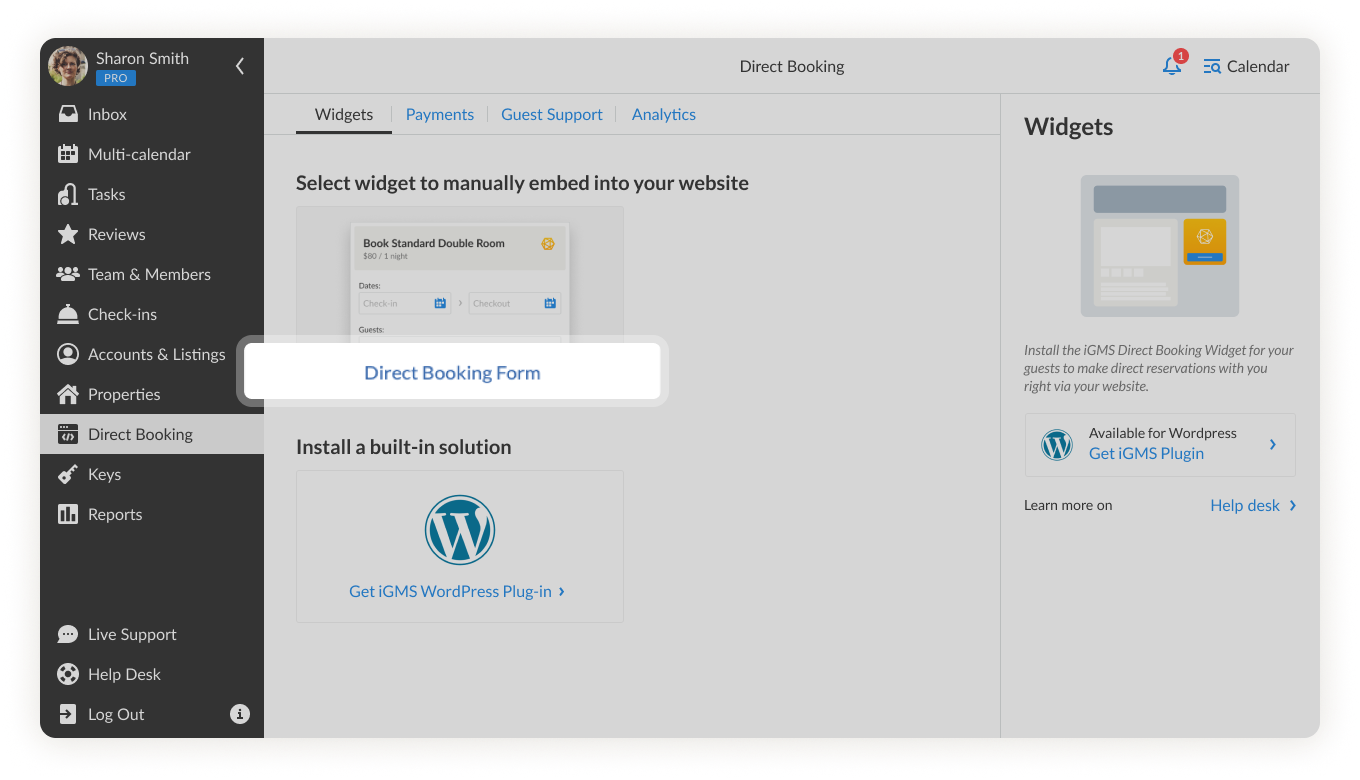 4. Configure your widget by customizing its color and the text on the buttons. Select the relevant property.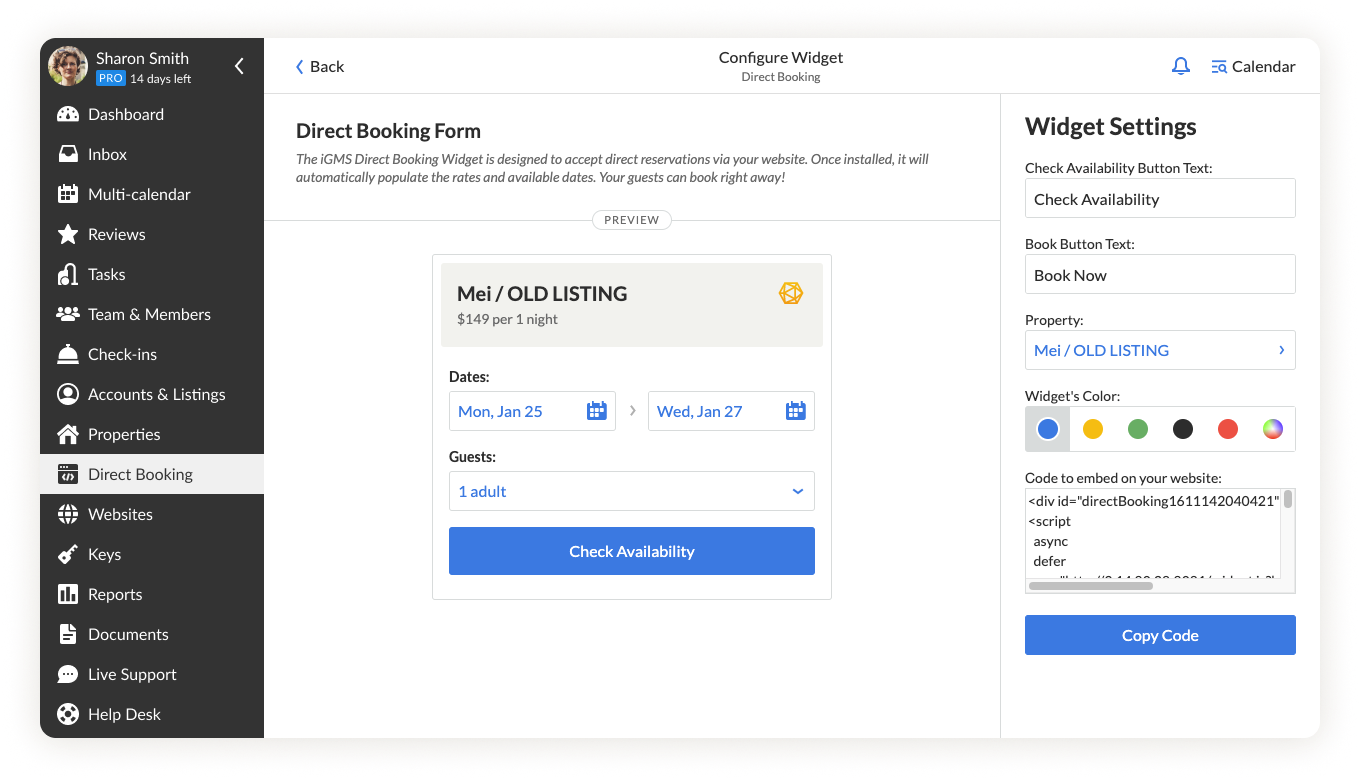 5. Click Copy code to embed it into your website.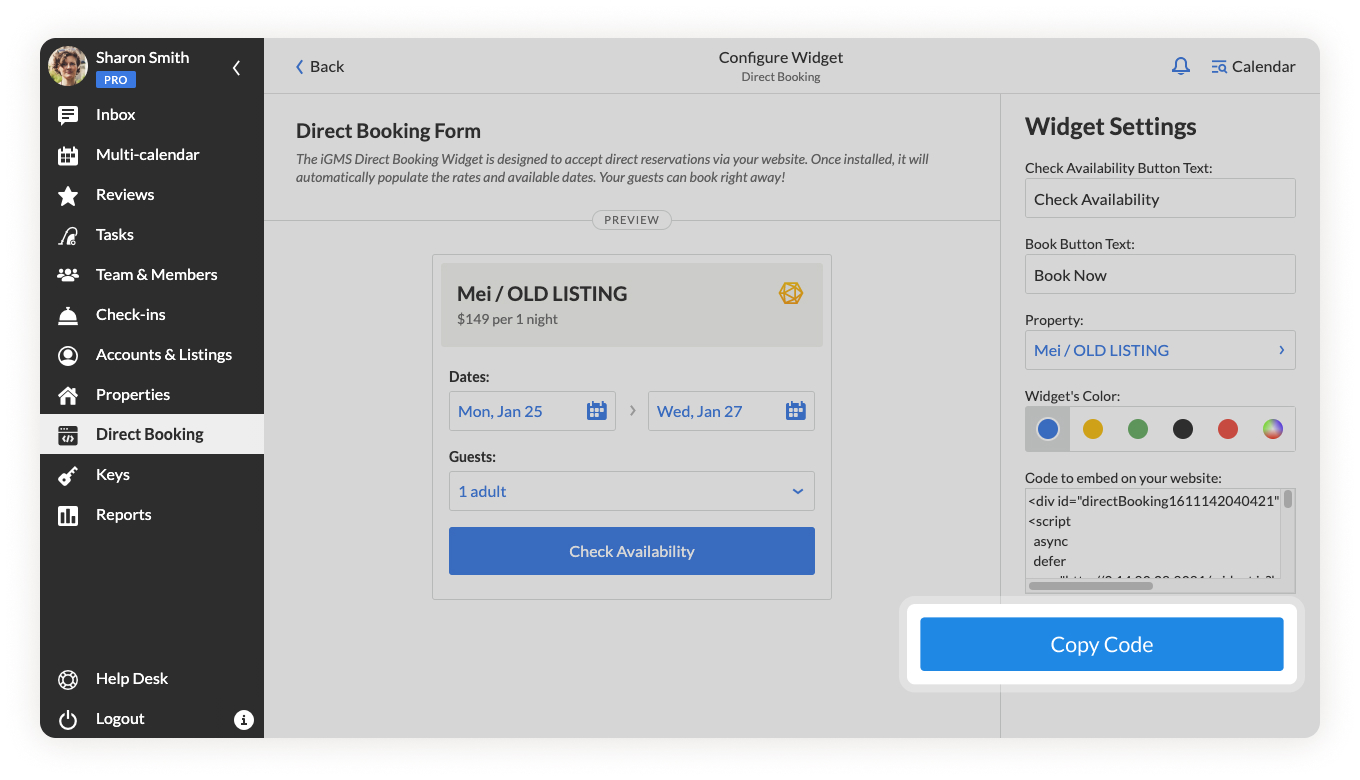 Note: The process of embedding a code might be different for every website. That is why we recommend passing the widget's code to your web developers. 
How to Install the iGMS WordPress Plugin?
In your

WordPress admin

panel, go to

Plugins

and then click on

Add New

. Search for the

Direct Booking Widget

by iGMS.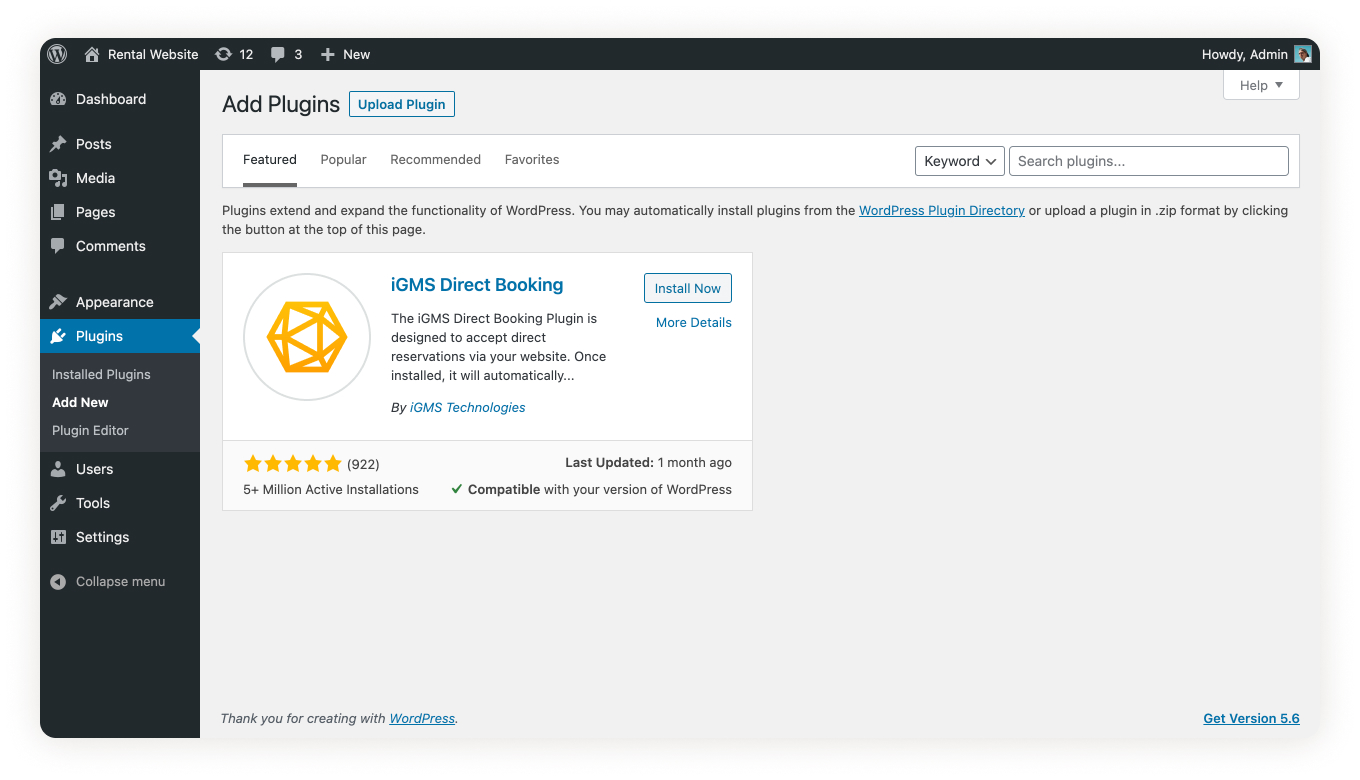 2. Click on the Install Now button. Come back to the list of plugins you have installed, and activate it.
  3. You will see the Direct Booking Widget section in your menu to the left.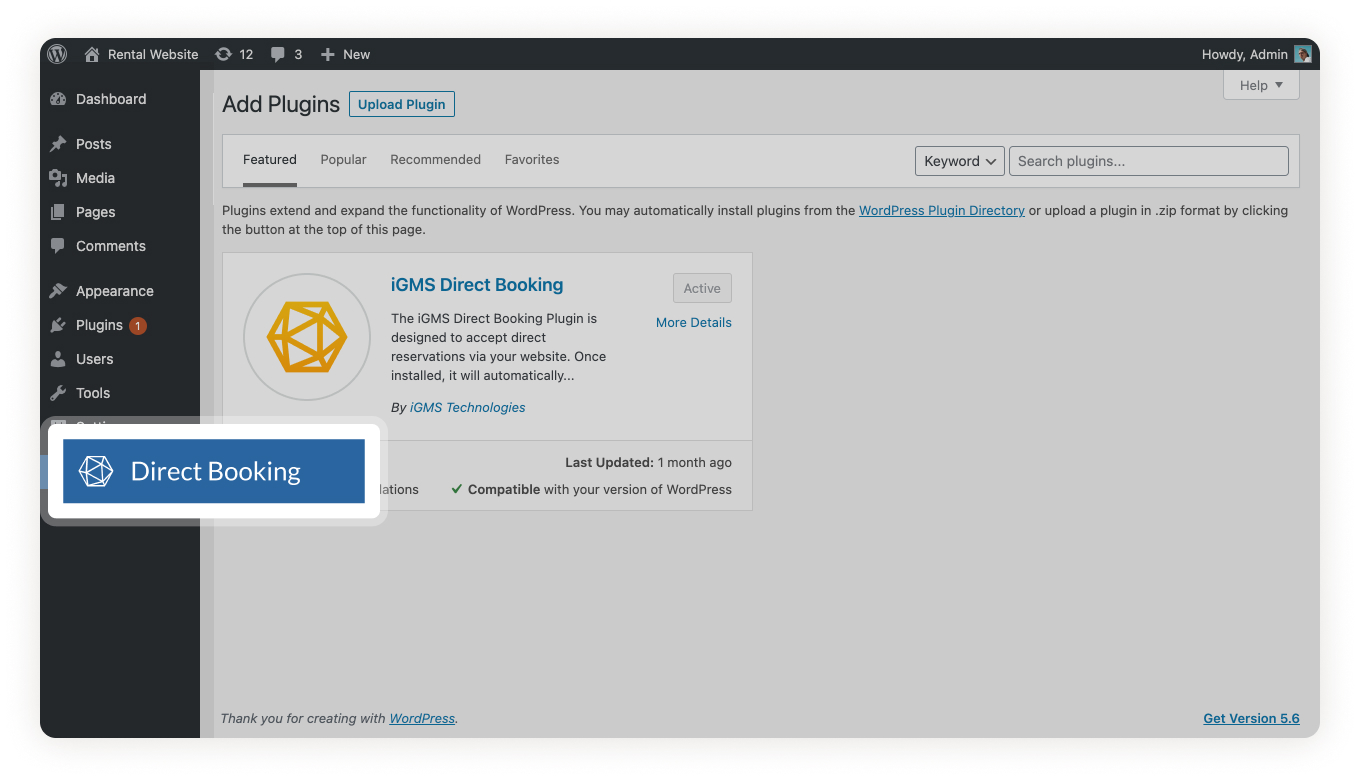 4. In this section, you need to log in with your iGMS account. This way WordPress will have information about your properties.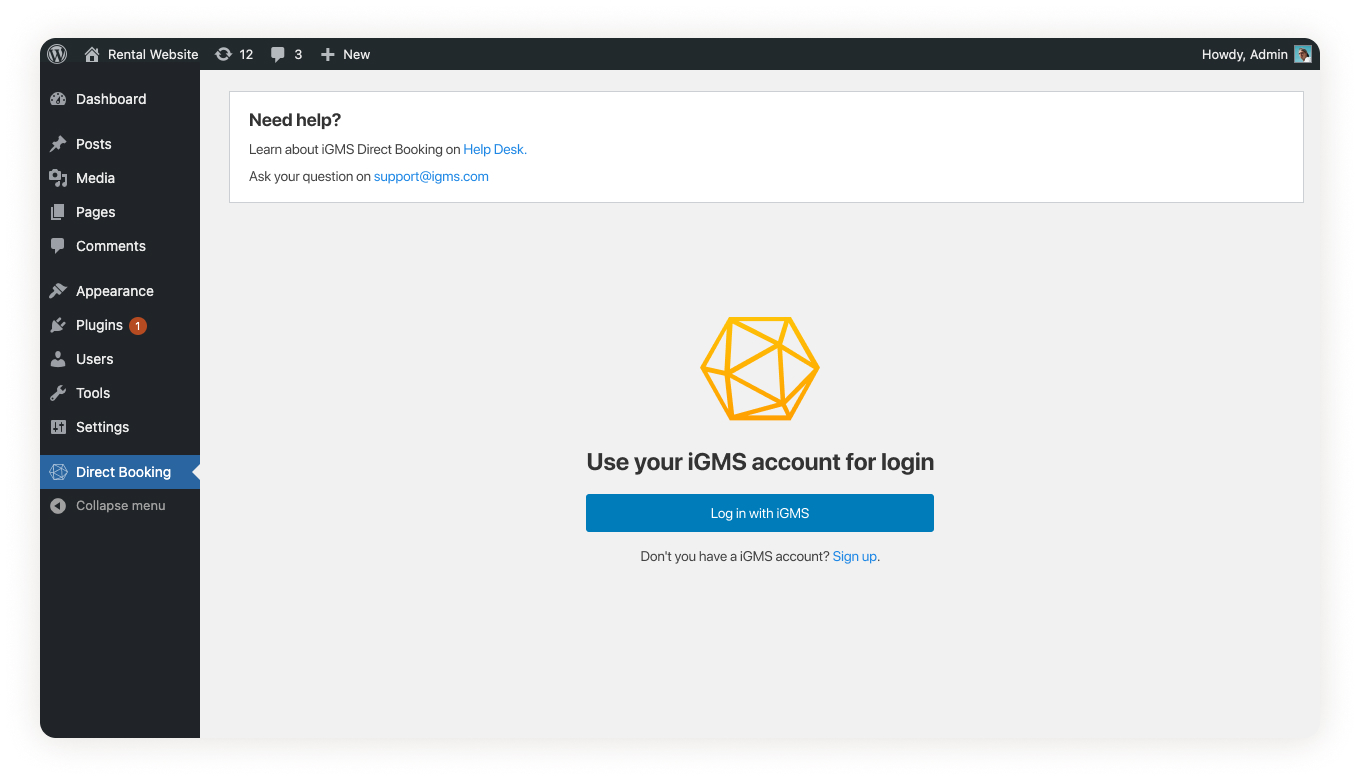 5. Here you can customize the Direct Booking Widget form and see how it will look for your guests.
How Can I Use the iGMS WordPress Plugin?
To place the installed and activated widget to one of your website sections, you can go to Appearance, and then Widgets. Drag and drop the iGMS Reservation Widget to any part of your website. For example, a footer.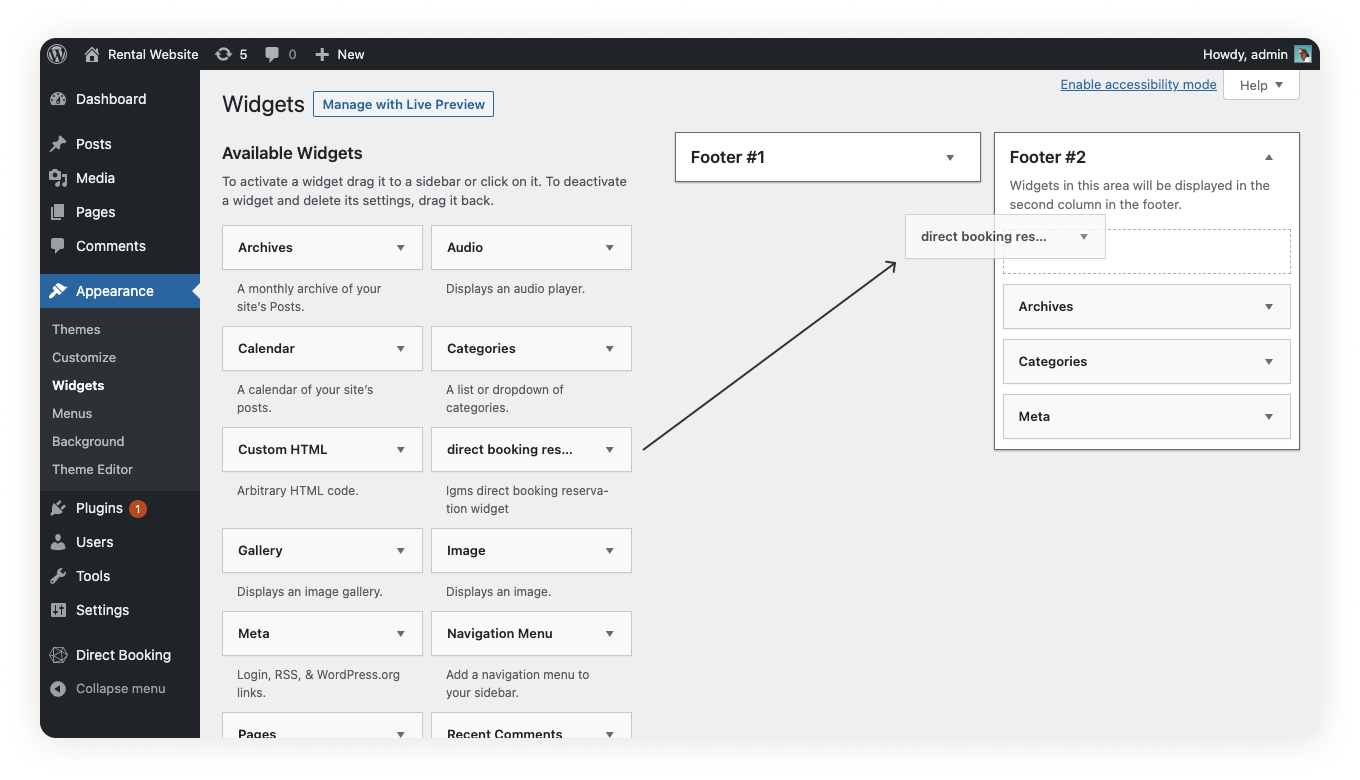 You can also add the widget as a block on a website page or in a blog post. Go to Pages, select the one you need and click on the Plus button to call the drop-down menu with blocks to add.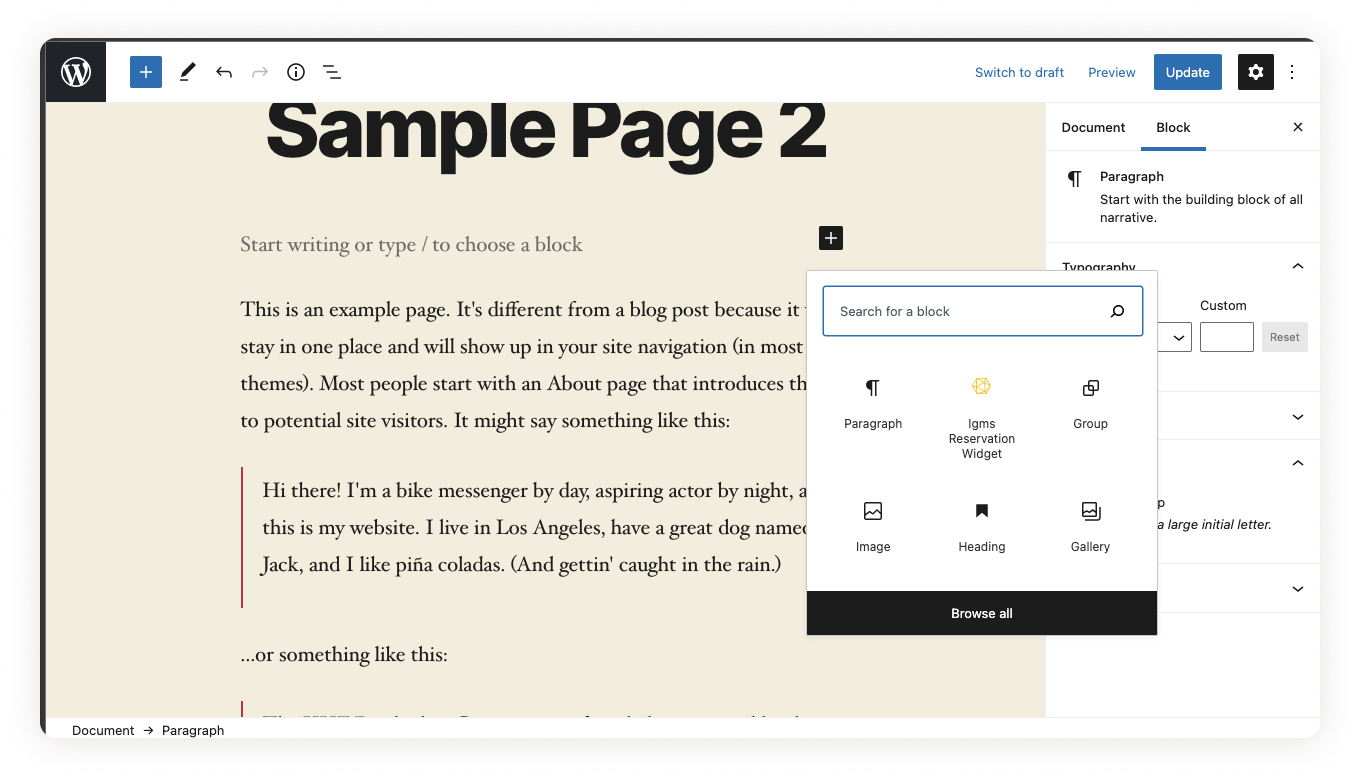 If you have questions about setting your iGMS Direct Booking Widget, feel free to contact our Customer Experience team via email or in Live Chat.