iGMS offers seamless connection to your Airbnb account(s). You can easily manage and work with your Airbnb listings' settings directly on iGMS via the Airbnb Listing Editor. The level of access to your listings' settings depends on the sync type you set on iGMS.
How do I find the Airbnb Listing Editor?
If you already have an active Airbnb listing, you can go to the Account and Listings section and click on it to call the Property Editor. On your right-hand side top corner and click on the Airbnb channel name.
If you do not have an Airbnb listing yet, you can create it from iGMS.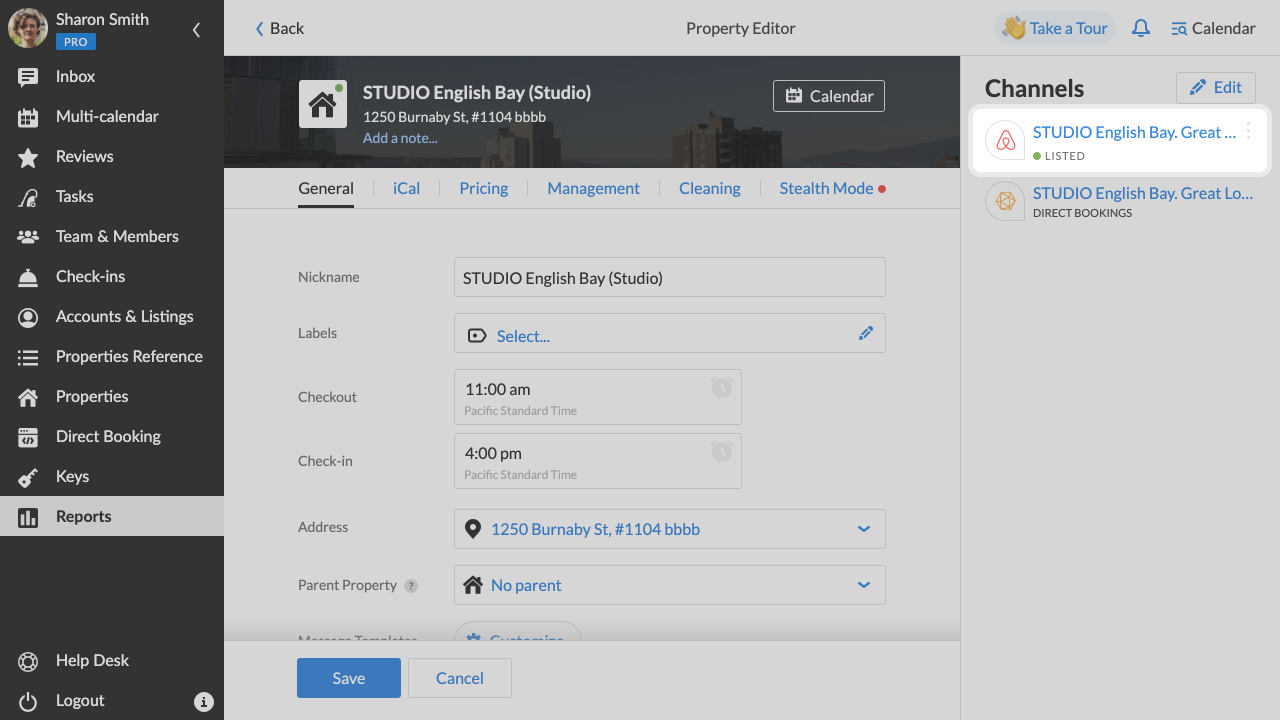 What settings can I manage in the Airbnb Listing Editor?
Depending on the sync type of your Airbnb listing, you will have access to a different set of settings to manage on iGMS.
iGMS offers three types of synchronization settings with Airbnb listings:
Sync Pricing and Availability (set by default for newly connected listings)

Sync Everything

Disconnected (not recommended)
Regardless of your sync type, you will see the listing's name at the very top with a link leading to the listing on Airbnb.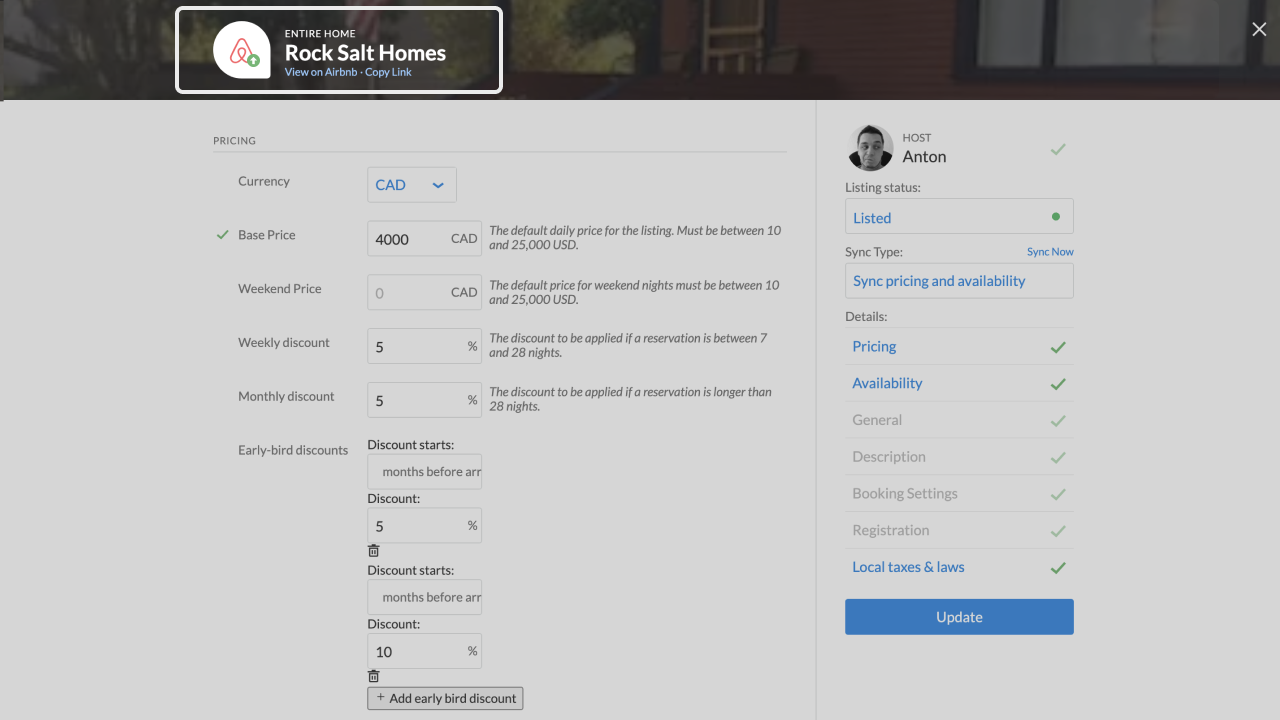 At the right-hand side, you will find a section showing: 
The host's name

The listing's status ( listed or unlisted)

The iGMS sync type

A set of sections that are currently editable in iGMS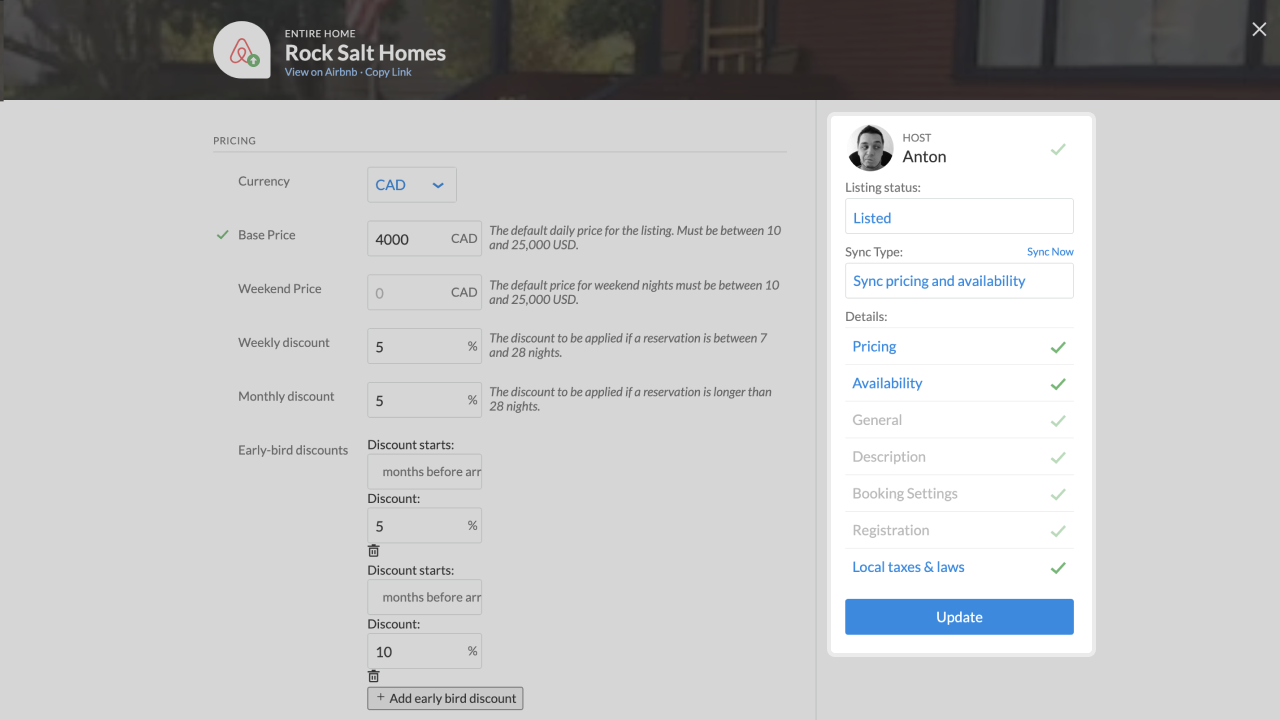 There's also a blue Update button in case any changes have been made by you.
By default, upon connecting to iGMS, your listing will have the Sync Pricing and Availability Sync type.
With this sync type you have access to the following settings on iGMS:
Pricing, which includes:
Currency of the property, just like on Airbnb

Base Price value

Weekend Price

Weekly discount (%)

Monthly discount (%)

Early-bird discounts

Last-minute discounts

Security deposit

Number of guests permitted without any extra fees

Price per extra person

Cleaning Fee

Short-term cleaning fee

Pet Fee

Resort Fee

Management Fee

Community Fee
Availability, which includes:
Number of minimum and maximum stay nights

Advanced notice for an incoming reservation

Distant requests

Preparation time

And an option to customize when the check-in time is allowed based on the days of the week.
If you change the default sync type to the Sync Everything, you will have access to all of the settings for the Airbnb listings on iGMS. 
Apart from Pricing and Availability you will be able to manage and update:
General information, which includes:
Title

Address

Photos

Amenities

Property type

Room type
Description, with the following fields:
Listing's description

The area's description

Guest access and interaction

Neighborhood overview and some tips on how to get around

Other notes for the guest
Booking settings:
Maximum number of guests

Number of bedrooms and bathrooms

Check-in and checkout time

General and additional house rules

Instant Booking and a greeting for instant booking

Cancellation Policy
Registration:
Information type

Permit number

Host's email

Host's full legal name
In the Disconnected sync type, you do not have access to the Airbnb Listing Editor.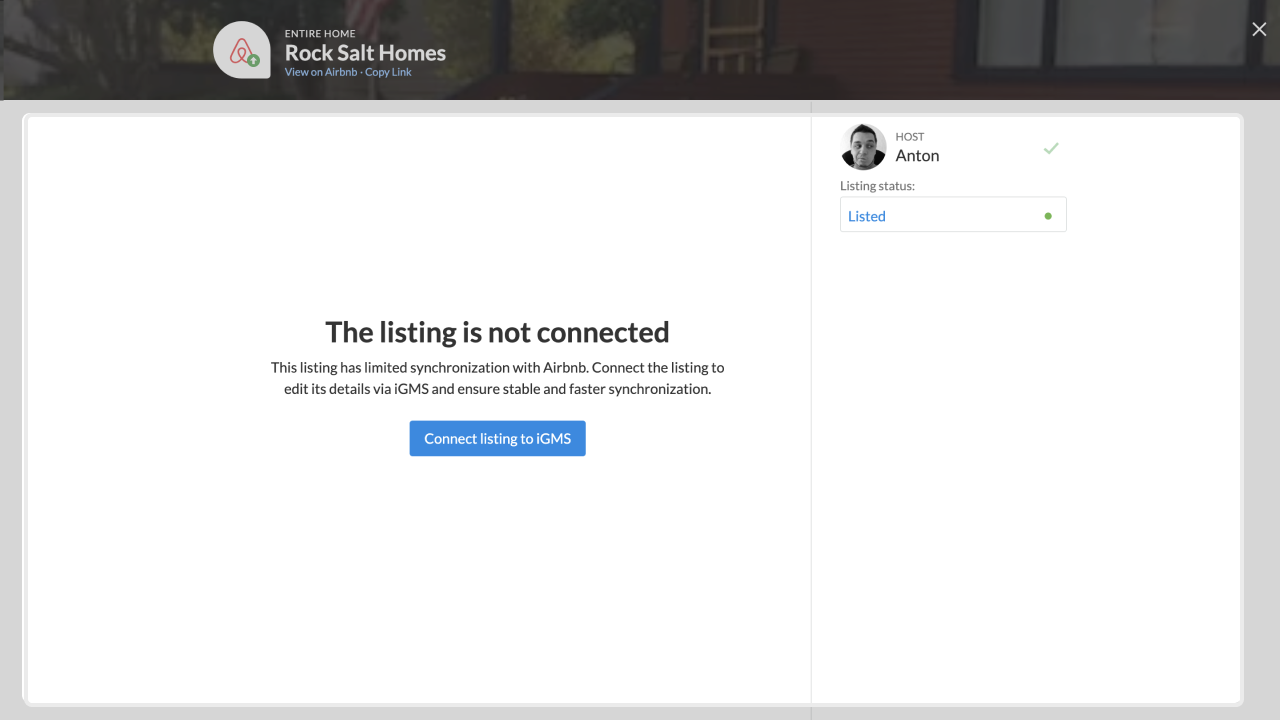 Important: you can only change settings in one place at a time (either iGMS or Airbnb). If you've changed your listing sync type and have settings available on iGMS, you will not be able to edit them on Airbnb.
If you have any questions about the Airbnb Listing Editor settings, please contact our Customer Experience team via Live Chat or by email at support@igms.com.