In this article, we will look at all the smart triggers and the situations in which you can use them to automate the guest replies.
Messages for guests who book or alter reservations
Your guests are excited to book, you are excited to host them. Make sure that they get timely responses when they book, alter or cancel a reservation: the more responsive a host is, the better the rating.
If you want to reply promptly and promise to get back with more details about a property or reservation later, use Upon Inquiry or Upon Confirmed Reservation triggers respectively. The automated template will save you tons of time and earn your guests' sympathy:
"Thanks for booking with me! I'll be happy to host you. The additional details (like codes, bus numbers, etc.) and the rules are already on the way. I'm making sure that everything is right, and will get back to you soon."
They will be delighted with the attention!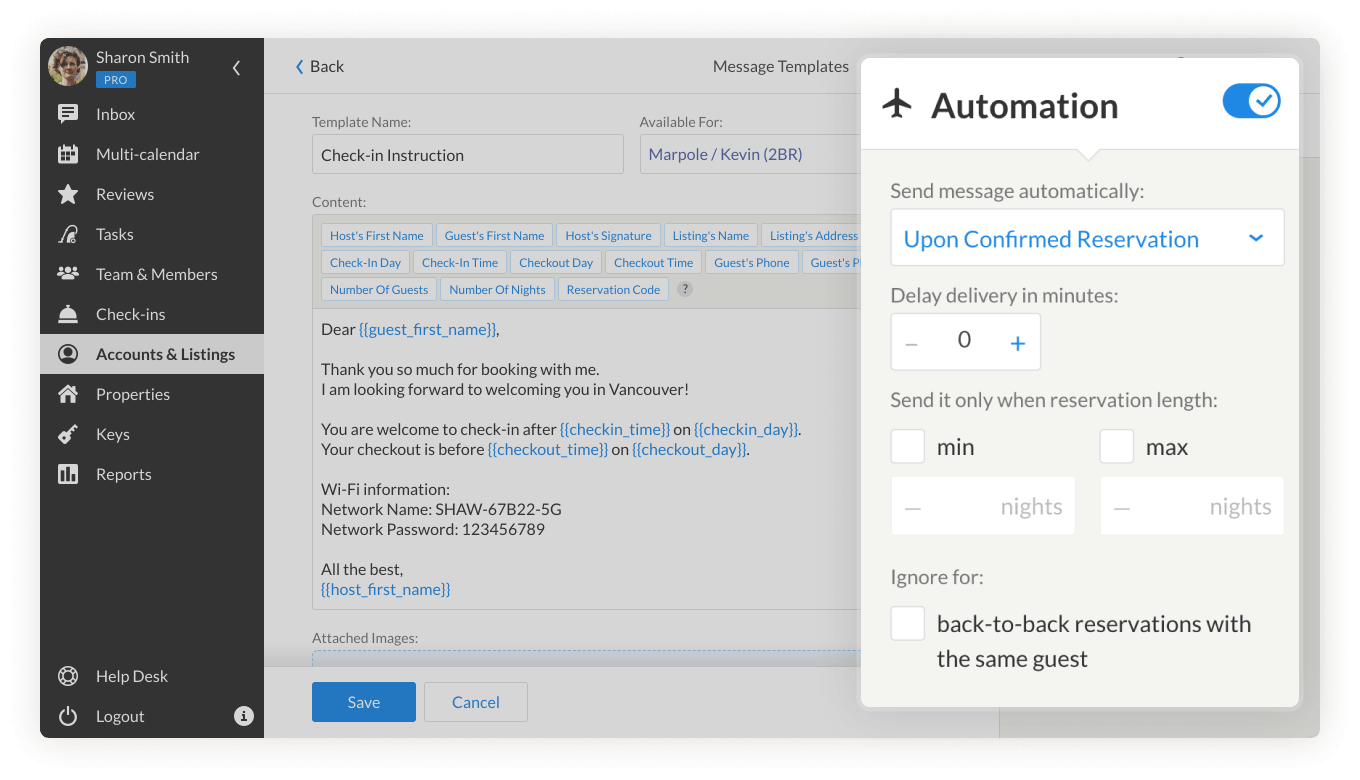 If you want to shortly reply to guests who cancel or alter a reservation, use Upon Cancellation or Upon Alteration conditions.
For example, you'd like to know why someone is cancelling the reservation. The template set up to be sent upon the cancellation request will invite the guest to answer.
Messages for arriving or leaving guests
Having the templates all ready for an upcoming booking, you will have the entire picture of how automation should work to keep them informed throughout their stay. Timing is especially important when it comes to your guests' arrival or leave. 
If you want to reach out to guests on the day they arrive or leave, use On Check-in Day trigger.
For example, you want to send instructions on the check-in day, but do not want to bother the guests early in the morning. So, you can set the template to be sent at 2 p.m. on check-in day, and relax. Your guest will receive the template with instructions at a convenient time for them.
If you want to remind about some rules you have for leaving guests, use On Checkout  trigger.
For example, you always ask your guests at what time their checkout is scheduled or ask them to leave the keys in the smart lock. 
If you want more flexibility with timing and want to inform guests in advance, use Before Check-In Day trigger.
For example, you can send check-in instructions to your guests a few days before their stay, just to make sure they have it beforehand.
If you want to create a positive image of a welcoming and caring super host, use After Checkout.
For example, you can also follow-up with your guests a few days after their stay to increase the chances of getting a positive review.
If you have guests who book the last-minute, use 1 day Before Check-In trigger with an additional option apply for last-minute booking (closer than 1 day).
For example, you have a small property in a remote area which is rarely booked in advance. By enabling last-minute booking you give a chance for late guests to receive the information they need even one hour before arrival.
Things to keep in mind 
In iGMS you can have

two types of templates:

send to all (blue), and send to specific properties (purple).

You can change the template type, if necessary.

If you set a trigger for

3 days before arrival

, it means that

it will be sent ONLY 3 days before arrival,

not within 3 days before arrival.

The time of automation is determined by the

property's time zone

.
If you have questions about triggers or need help, reach out to our Customer Experience team via support@igms.com.